Wyze Light Strip
Color your world with brilliant LED accent lighting.
Regular price

Sale price

$39.99 CAD

Unit price

per
+ Shipping
30-day hassle-free returns.
Pick from 16 million colours to add a splash of light behind your favourite screen, to frame your headboard, or to illuminate dark corners. Just peel, stick, and plug anywhere for brilliant smart accent lighting–controllable right in the Wyze app.
Sync To The Music
Sync your lights to the beat of the music with a built-in microphone.

Scenes
Group strips together and explore default scenes or save your own to match your mood.

Voice Control
Use Alexa or Google Assistant to control your Wyze Light Strips by voice.

Timers
Set a timer to turn your device on or off.

Vacation Mode
Have Wyze Light Strip turn on and off to make it look like someone is home.

Wake Up Gently
Set Wyze Light Strip to gently turn on in the morning to help you wake up or fade out in the evening to help you fall asleep.

16 Million Colors
Explore all the colors of the rainbow or different shades of white.

WiFi App Control
Control your lights directly from the controller on the strip or from anywhere in the world with the Wyze app.

Easy Setup
Peel and stick Wyze Light Strip directly onto your desired location and use the optional clips for extra strength. You can pair multiple light strips to the Wyze app at the same time for a quick and easy setup.
Weight
1.01 lbs

Dimensions (inches)
5.11 x 5.03 x 3.5

Length
32.8 ft

Common Key Features
Colors
16 million

Single or Multicolor
Single

Customizable Zones
1

Power Source
Corded Electric

Power Adapter Output
12 Volts

Wattage
32.8 ft

48 watts

Power Adapter Input
100-240V

Usage
Indoor Use Only

Communication Mode
802.11 b/g/n, 2.4 GHz, Bluetooth

Lumens Per Meter
Blue(0.8lm/LED at 20mA) *30pcs/meter

Red(1.0lm/LED at 20mA) *30pcs/meter

Green(2.5lm/LED at 20mA) *30pcs/meter

Operating Temperature
-20°C - 50°C

Storage Temperature
-40°C - 70°C

Life Expectancy
25,000 Hours
Wyze Light Strip x2
Controller x 1
Adhesive Clips x20
Power Adapter x 1
Quick Start Guide x 1
Alcohol Wipe x 4
Can you connect Wyze Light Strips together?
No, Wyze Light Strips are sold in two lengths, 16.4 feet and 32.8 feet, and are not built to be connected end-to-end. The 32.8" version is actually two 16.4" strips that have the controller in the middle.

Can you connect different models together?
No, you cannot connect different models together physically, but they can be grouped together in the Wyze app.

Is Wyze Light Strip weatherproof?
No, both Wyze Light Strip and Wyze Light Strip Pro are meant for indoor-use only.

Can I group Wyze Light Strips together and with Wyze Bulbs?
Not yet, but we're working on that for the near future.

How do I mount Wyze Light Strip?
With the adhesive backing. Wyze Light Strip has an adhesive back and additional clips that can be used to attach the strip to a variety of surfaces. Make sure to clean the mounting area before installation to ensure the best hold.

Can I cut Wyze Light Strip?
Yes, you can cut both Wyze Light Strip and Wyze Light Strip Pro at designated cutting marks on the strip to fit your desired location.

How does the music feature work?
Using the built-in microphone. The controller for Wyze Light Strip and Wyze Light Strip Pro has a built-in microphone used to match the lights to the beat of the music.

What's the difference between Wyze Light Strip and Wyze Light Strip Pro?
Wyze Light Strip Pro can have multiple colors on the same strip while Wyze Light Strip can only have one color at a time. This means Wyze Light Strip Pro can have different colors across the strip and has more advanced lighting effects. Both versions have a microphone and can be grouped together.
16 million colors for every corner
Add a splash of color to backlight your favorite screen, frame your headboard, or illuminate dark corners. Just peel, stick, and plug in Wyze Light Strip anywhere for perfect accent lighting.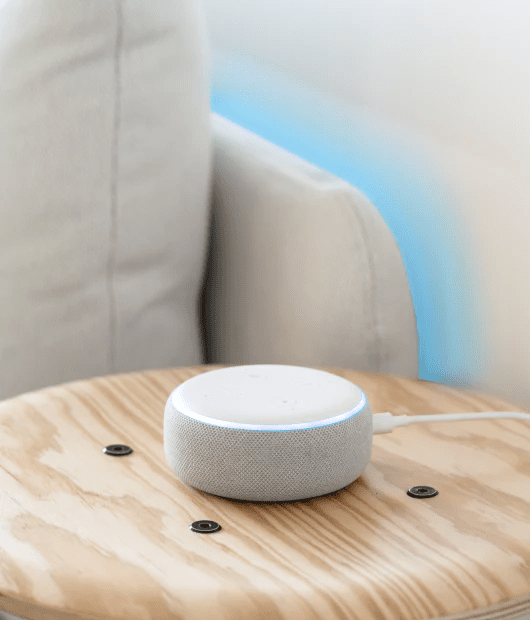 More bright ideas

Voice Control
Your voice is now your light switch. Command your lights with your voice by asking Alexa or Google Assistant to turn them on/off, adjust brightness, or change color.
Vacation Mode
Make it look like someone's home whenever you are away. Just enable "Vacation Mode" in the Wyze app and our light strip does the rest.

Sleep Routines
Wake up or fall asleep to custom lighting routines that gradually illuminate or darken with time. It's like having your own personal sunrise and sunset.

Timers & Automations
Start a timer to have your strip turn on or off or create powerful automations in the Wyze app.
Choosing a selection results in a full page refresh.