Wyze Cam Pan v2
Take it for a spin. Now with Color Night Vision.
Regular price

Sale price

$59.99 CAD

Unit price

per
+ Shipping
30-day hassle-free returns.
The internet's favorite panning, tilting, and zooming 1080p smart camera is back to help you keep an eye on the entrances, pets, and babies inside your home! The new Color Night Vision brings detail, color, and definition to even the smallest details in dimly-lit rooms. 
Color Night Vision
Wyze Cam Pan v2's Starlight CMOS Sensor helps you to see in ultra low-light conditions.

This camera is capable of seeing in color at night with very limited lighting. You can even use it to watch or even take a time lapse of the stars.

Pan/Tilt/Zoom
Use the control panel in the Wyze app to pan and tilt the camera for a 360° live view. Pinch zoom the live stream screen to zoom up to 8x. You can adjust the rotation speed (up to 110° per second) in the Wyze app.

Pan Scan
Wyze Cam Pan v2 automatically scans its surroundings by rotating to up to 4 custom waypoints. It pauses for 10 seconds at each waypoint before moving on to the next one.

1080p Full HD
Live streaming, recording, and playback are all available in clear and sharp 1080p HD resolution. Toggle between SD and HD to fit your needs.

Motion Tracking
Wyze Cam Pan v2 auto-tracks any moving object detected within its field of view. You can turn this feature on or off in the Wyze app.

Motion Tagging
Highlight motion in both Live Stream and Playback modes.

Live Streaming
View what's going on in real time and record videos or take pictures saved directly to your phone.

Real 2-Way Audio
Say goodbye to push-to-talk.

Wyze Cam Pan v2 has simultaneous 2-way communication. Talking to your family, pets, and visitors is just like making a phone call.

Night Vision
Wyze Cam Pan v2's enhanced night vision distinguishes 18 variations of gray and provides clear images up to 30 feet away.

Motion and Sound Detection
When the camera detects motion or sound, it will record a 12-second video that is securely stored in the AWS cloud.

Motion Detection Zone
Create a custom detection zone to only trigger Event Videos for motion detected within a specific area of the camera's field of view.

Smart Sound Recognition
Wyze Cam Pan v2 recognizes the unique tonal patterns of smoke alarms and CO monitors to alert you to these specific emergencies.

Push Notifications
Receive a push notification to view an Event Video when motion or sound is detected and recorded.

Alert Scheduling
Set an alert schedule to automatically turn on and off motion and sound detection at specific times of the day.

Free, Rolling, 14-Day Cloud Storage
You have free access to saved motion and sound-triggered Event Videos for rolling 14 days for the life of the product.

Secure AWS Cloud Storage
Wyze Cam Pan v2 uses end-to-end encryption for uploading and downloading Event Videos to and from the AWS cloud.

Continuous Recording
Footage can be recorded and stored to a microSD card (sold separately) continuously. Older files are automatically overwritten when storage reaches capacity.

Time Lapse
Set the time frame and intervals to easily create custom time lapse videos and save them locally to a microSD card (sold separately).

Playback
When a microSD card (not included) is installed, users can view videos in Playback mode by scrolling through the timeline and pinch zoom the timeline for easier navigation.

Sharing
Use the Wyze app to share your camera with other users.

Flexible Installation
The ¼" – 20 threaded screw hole in Wyze Cam Pan v2's base works with standard camera mounts and can be mounted to any surface.

Mini-Siren Feature
Use the improved speaker as a siren to warn away intruders (and pesky squirrels) with a loud sound. Control the siren from the Wyze app.
Wyze Cam Pan v2 Device Details
Color
White

Finish
Matte

Materials
Body: Polycarbonate

Lens: Glass + plastic

Camera Dimensions
127.5 mm (H) x 60 mm (W) x 60 mm (D)

Camera Weight
8.78 oz (249 g)

Ports
1 micro USB

LED indicator
Front: Red + Blue.

Phone Compatibility
Android 7.0+

iOS 12.0+

Night Vision
IR Lights: 6x940 nm

Illuminates up to 29.6 feet (9 m)

Day/Night Vision

Audio
Built-in speaker and microphone

Class-D power amplifier

Powering Methods
Power Cable Length: 6 feet (1.8 m)

Power Adapter Input: 110-240V (AC/DC)

Power Adapter Output: 5V/2000mA

Base Screw Hole
1/4″ – 20

CPU
1.5GHz

Memory
128 Mb

Camera
Resolution: 1920 X 1080 (1080p)

Lens: F1.6 aperture, 3.2mm focal length

Image Sensor: 1/2.9'' CMOS

Digital zoom: 8x

Field of View: 120° lens

Rotation Speed
Up to 110° per second

View Range: 360° horizontal, 93° vertical

Audio
Built-in speaker and microphone

Class-D power amplifier

Video
H.264 encoding

Day time video: 20 FPS

Night vision: 15 FPS

Alerts
Push notifications

Cloud Storage
Free rolling 14 days of alert videos stored in the AWS Cloud

Local Storage
Supports 8 GB, 16 GB and 32 GB microSD cards in FAT32 format

Data Security
End-to-end encryption

HTTPS secure transfer protocol

AES 128-bit encryption

Data Usage
1-2 MB per minute in SD, or 4-7 MB per minute in HD

WiFi
802.11 b/g/n 2.4 GHz (Does not support 5 GHz network)

Supports WPA and WPA2 protocols

Connectivity Requirements
Upload speed is 1.0 Mbps for SD and 1.5 Mbps for HD

Operating Systems
Supports iOS 12.0 and Android 7.0 or later

Operating Temperature
32℉ – 104℉ / 0°C – 40 °C

Operating Humidity
<90% at 104℉ / 40°C

Weather Resistance
Indoor use only

Certifications
FCC, IC, UL

Languages
English

Warranty
1-Year
- Wyze Cam Pan v2 x1
- 6′ Micro USB Cable x1
- Power Adapter x1
- Quick Start Guide x1
What is the difference between Wyze Cam Pan and Wyze Cam Pan v2?
Wyze Cam Pan v2 includes all the features you love from the previous version, with the addition of Color Night Vision, an upgraded CPU with more processing power, and improved motion tracking.

What is Color Night Vision?
Wyze Cam Pan v2 is equipped with a Starlight sensor that allows the camera to see color in extremely low light conditions.

What is the Starlight sensor?
The Starlight CMOS sensor is a sensor that is very sensitive to light. It allows Wyze Cam Pan v2 to create an astonishingly clear image with very little light.

Can I use Wyze Cam Pan v2 outdoors?
No, Wyze Cam Pan v2 is not IP rated and it is meant for indoor-use only.

How do I turn on Color Night Vision?
While viewing the Live Stream, simply turn Night Vision off. A small amount of light is needed to create a clear image, but a street light outside or even a night light is enough.

What is the Siren and how does it work?
We've improved the volume of the speaker so that it can be used as a siren, which is loud so you can use it to ward off intruders. Control the Siren feature from the Wyze app manually, or through Rules.

Is Wyze Cam Pan v2 wireless?
No, Wyze Cam Pan v2 powered by a USB cable but connects to the Internet via 2.4GHz WiFi.

Does Wyze Cam Pan v2 support 5GHz WiFi?
No, Wyze Cam Pan v2 does not support 5GHz WiFi. It only supports 2.4GHz networks.

What is the resolution of the Wyze Cam Pan v2?
1920x1080p Full HD

Does Wyze Cam Pan v2 support Wyze Sense Bridge?
No, Wyze Cam Pan v2 does not support Wyze Sense Bridge. Keep a Wyze Cam v2 or Wyze Cam Pan on hand to use Wyze Sense Bridge, or upgrade to a Wyze Sense Hub, included with the Wyze Home Monitoring service.

Does Wyze Cam Pan v2 have a battery?
No, Wyze Cam Pan v2 is powered via a USB cable.

How does the Wyze Cam Pan v2 + 1 Month of Cam Plus promotion work?
First, sign in or create a Wyze account — this is required. Then, purchase a Wyze device that includes 1-3 months of Cam Plus. No further action is needed! Your new Cam Plus license will be applied to your Wyze account automatically, and it will be activated once the device ships. Your Cam Plus subscription will not auto-renew unless you have added a payment method to your services.wyze.com account. Learn more.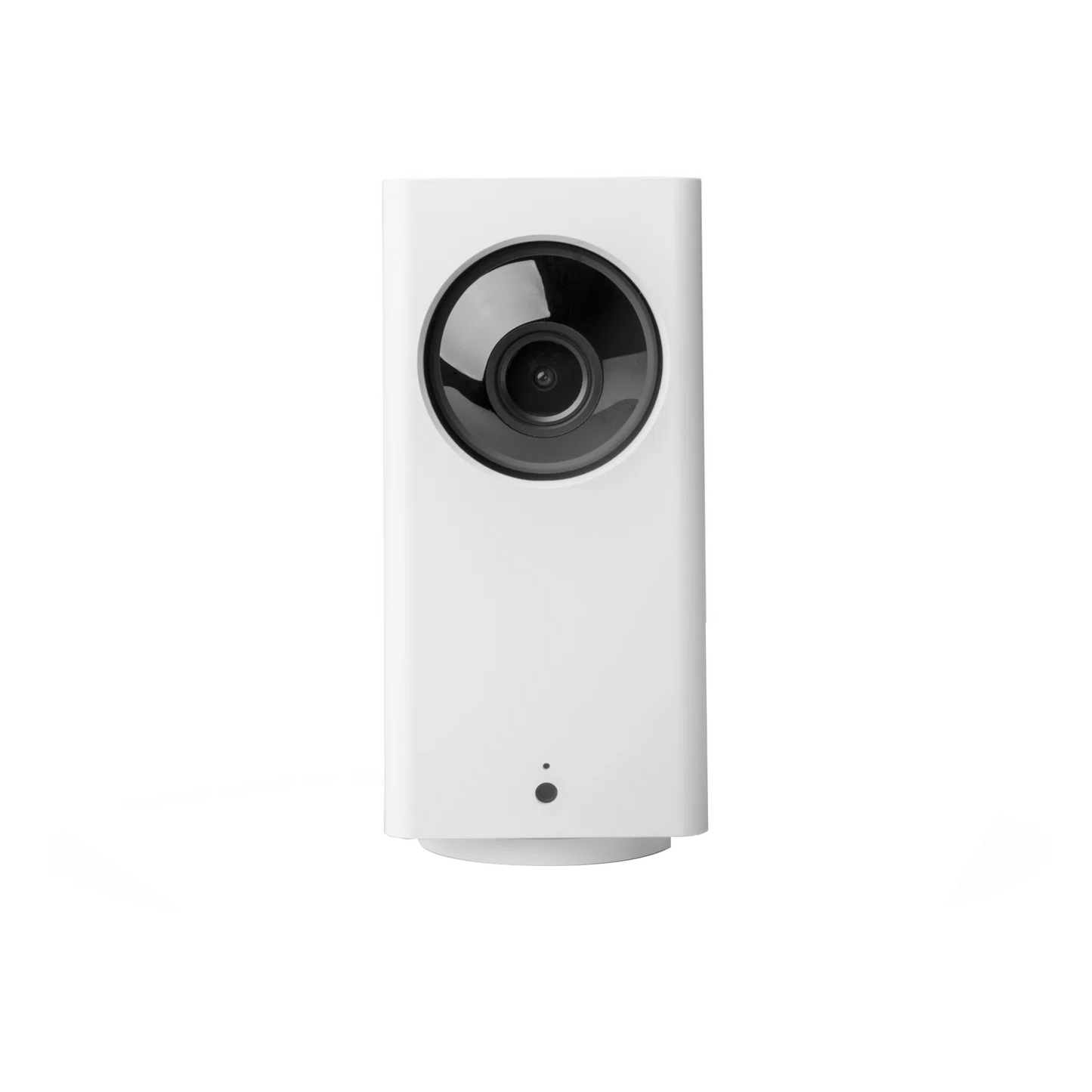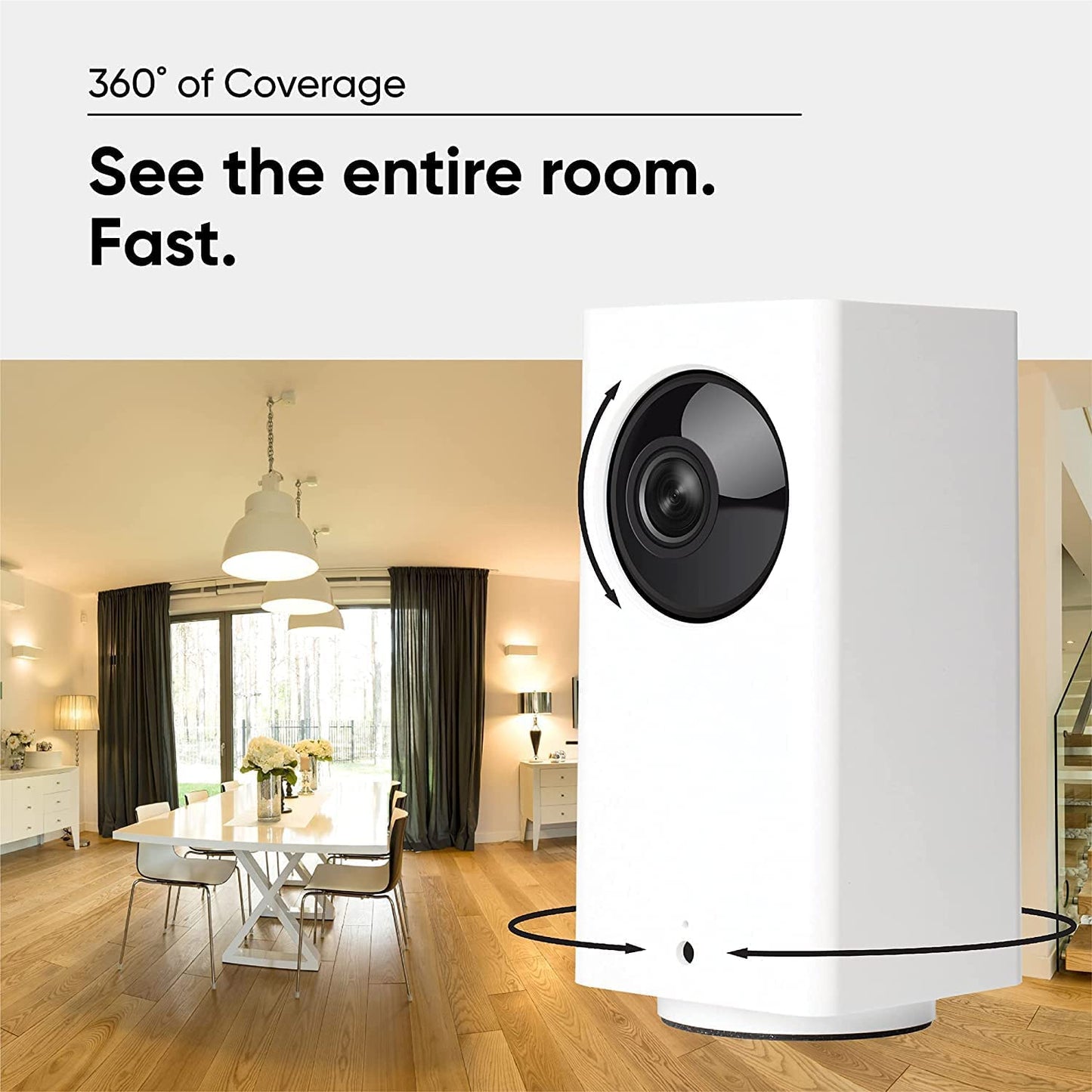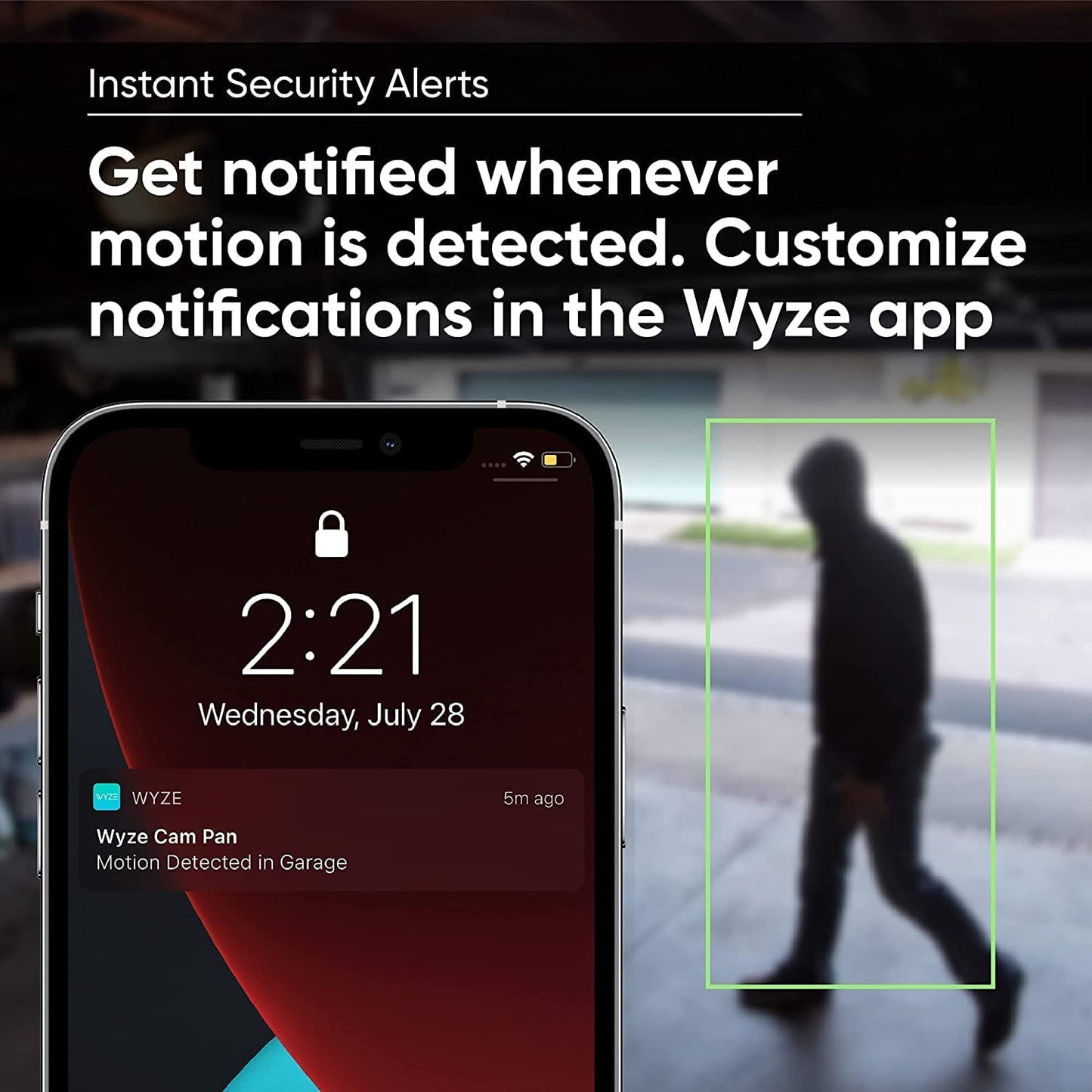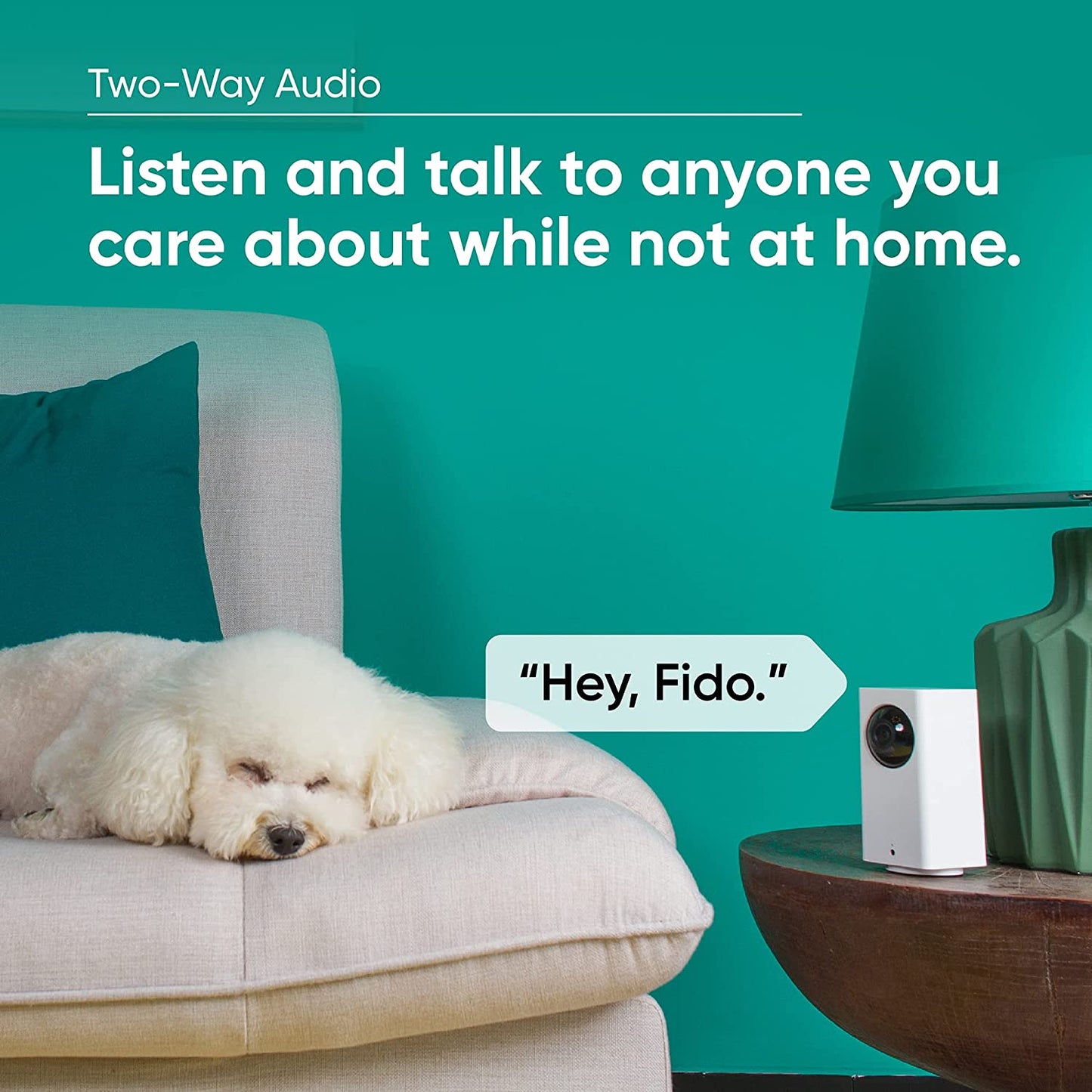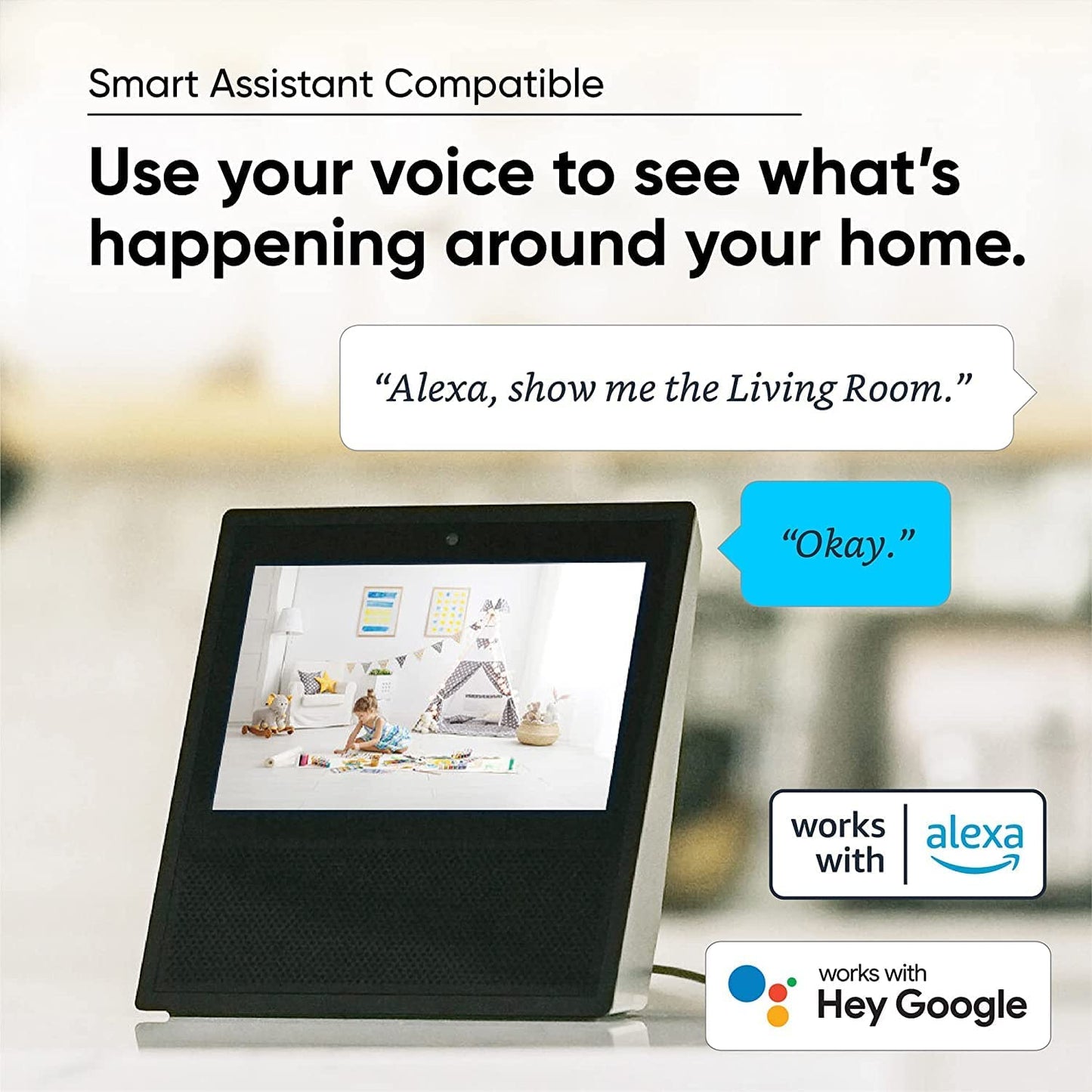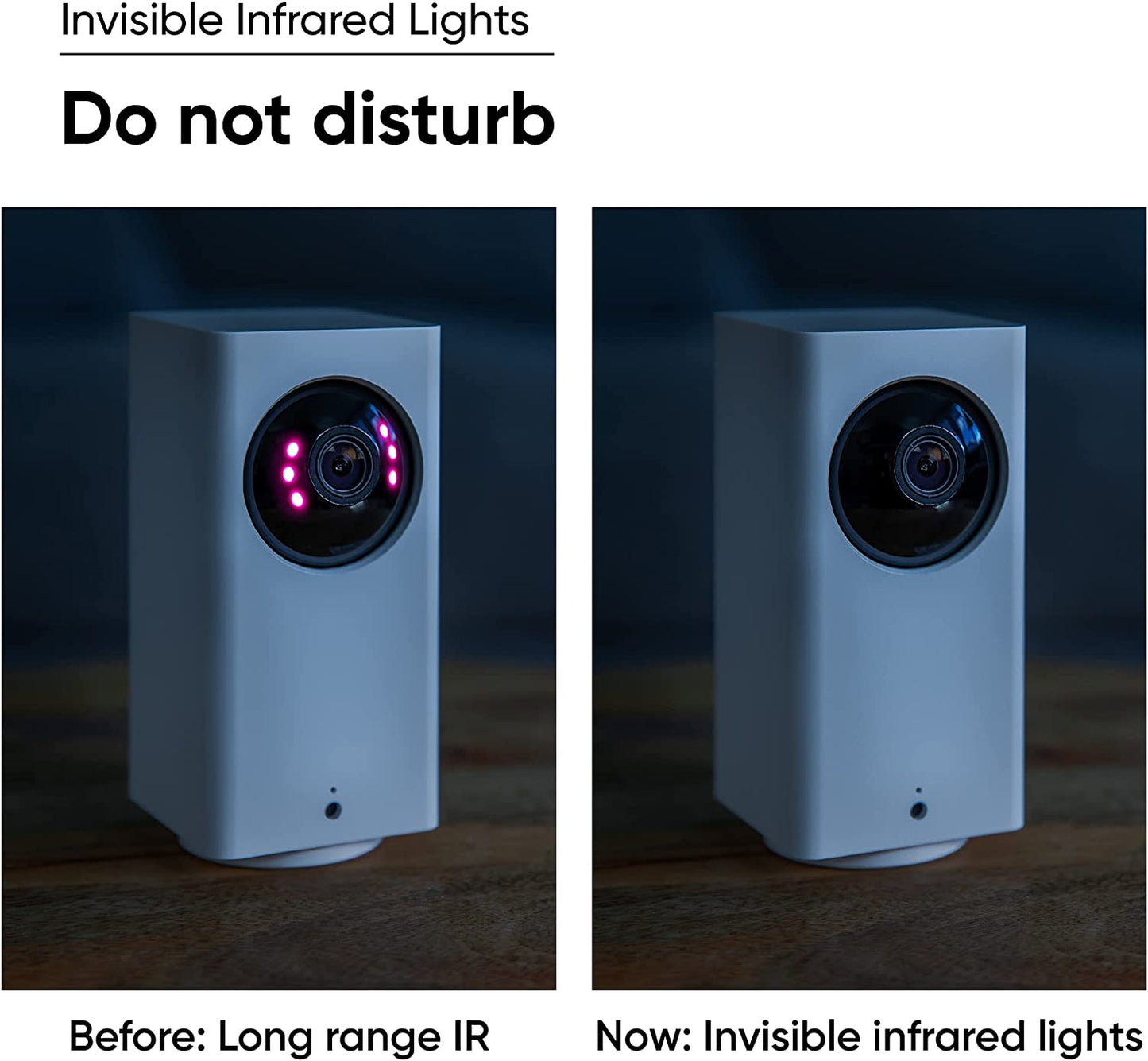 Choosing a selection results in a full page refresh.