The best wireless video doorbell.
Low stock
Wider view. Higher resolution. Extraordinary price.
- 30-Second, Wire-Free Installation
- Optional Hardwiring for Continuous Power
- 1:1 Aspect Ratio & 1440p Full HD Video
- Up to 6 Months of Battery Life
- Dual-Band WiFi Connectivity 2.4G Hz/5 GHz
- Instant Notifications
- Motion Detection, Smart Alerts & Video Recording
- IP65 Weather-Resistant
-Cam Plus Compatible
Color
Doorbell: White, with black accents

Chime: White

Materials
Body: Polycarbonate

Lens: Glass + Plastic

Weight
Doorbell: 210 g

Chime Pro: 100 g

Dimensions
Doorbell: 141 mm x 46.5 mm x 28 mm (5.5 in x 1.8 in x 1.1 in)

Chime Pro: 69.85 mm x 41.27 mm x 69.85 mm (2.7 in x 1.6 in x 2.7)

Compatibility
Android 7.0+ and iOS 12.0+

Night Vision
IR Lights: 6 x 850mm

Day/Night Vision

Audio
Mic: ECM

Speaker: 80 dB, waterproof

Simultaneous 2-way talk

Battery
Battery Life: 3-6 months of battery life with normal use

Battery spec: 2x3250 mAh/7.4V rechargeable batteries (non-removable)

Image
Resolution: 1440x1440p Full HD

Field of view: Horizontal 150°, Vertical 150°

Connectivity
2.4 GHz and 5 GHz WiFi

Operating Temperature
-4℉ - 120℉ (-20°C - 49°C)

Weather Resistance
IP65 Weather resistant

Certifications
FCC, IC, UL and IP 65 Certified

Warranty
1-Year
- Wyze Video Doorbell Pro ×1
- Wyze Chime Pro ×1
- Back Plate For Screws ×1
- Back Plate For 3M Tape ×1
- 3M Tape x1
- T8 Screwdriver ×1
- Wire Nuts ×3
- Bracket Screws ×3
- Extension Wires ×2
- Expansion Tubes ×3
- USB Charging Cable ×1
- Quick Start Guide ×1
How long does it take to install Wyze Video Doorbell Pro?
It takes ~30 seconds to use the included 3M adhesive to mount the doorbell. Mounting the doorbell on a wooden door frame with the included screws should take under 5 minutes.

Do I need a technician for installation?
No technician is required for installation, even if you choose to use the included hard-wired option for your existing doorbell wiring.

Where can I install the doorbell?
Anywhere near your front door is a great choice since no wires are needed when you go fully wire-free. Make sure the height you choose is comfortable for visitors to press the button on your new doorbell.

What is the field of view (FOV) for Wyze Video Doorbell Pro?
The FOV is 150º horizontal and 150º vertical. You can see almost anything in front of your door, head to toe, including packages on the ground.

Does the doorbell use batteries? How long is the battery life?
Yes, our wire-free doorbell is powered by internal, non-removable, lithium-ion batteries. The battery life is 3-6 months with normal use, and you can recharge the doorbell using the included USB cable.

Is motion detection available on Wyze Video Doorbell Pro?
Yes, and you can receive notifications whenever motion is detected (using the body-heat infrared sensor). With a subscription to Cam Plus, you'll be able to configure alerts to detect people, pets, packages, and more.

Is Cam Plus available on Wyze Video Doorbell Pro?
Yes. With an annual or monthly subscription to Cam Plus, Wyze Doorbell Pro will have the latest AI features, including Person Detection, Package Detection, Vehicle Detection and Pet Detection. Also, Cam Plus enables the doorbell to record full-length event videos.

Can I use my existing doorbell wiring to power Wyze Video Doorbell Pro?
Yes, compatible wiring will allow the doorbell to charge while it's mounted. Having constant external power will allow your doorbell to record an additional 3-6 seconds of pre-roll video before an event, allowing you to see more context for a video clip.

Does Wyze Video Doorbell Pro include a chime?
Yes, one Wyze Chime Pro is included.

Is Wyze Video Doorbell Pro weather resistant?
Yes, Wyze Video Doorbell Pro is IP65-rated as weather resistant for outdoor installation. This means that it is "dust-tight" and protected against water sprays from any angle.

Can I control the volume of my Wyze Chime Pro?
Yes, you can adjust the volume in the Wyze app, in your doorbell settings.
View full details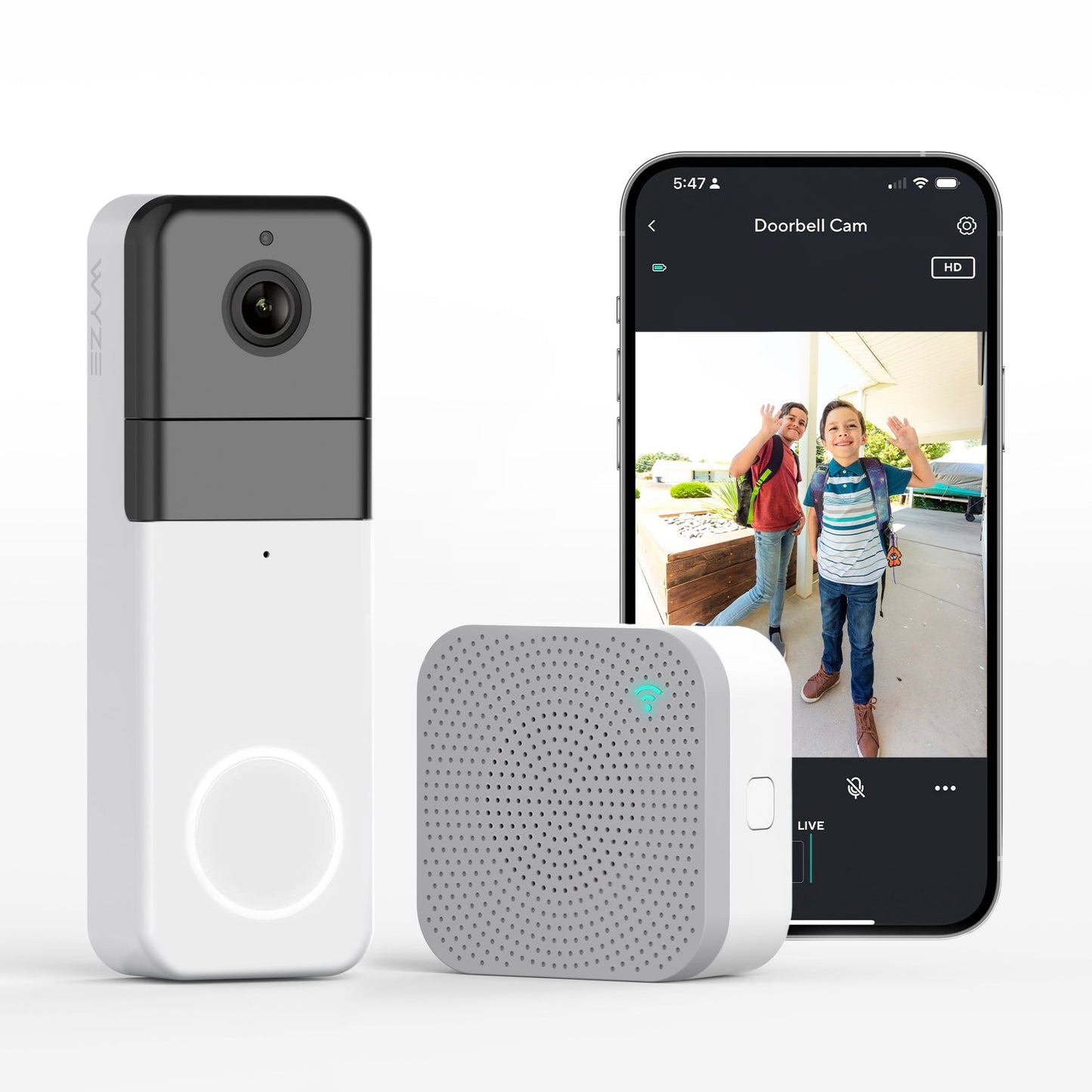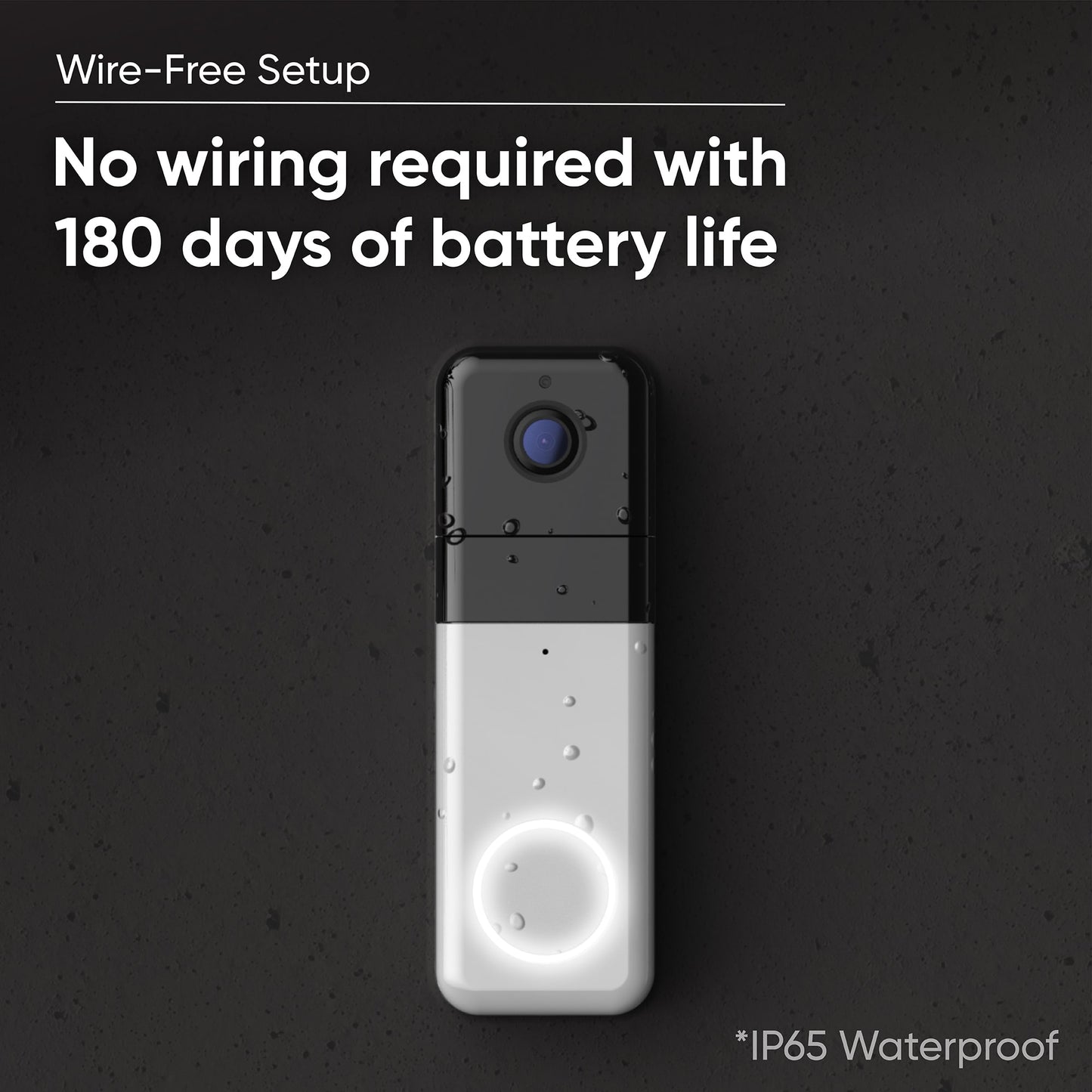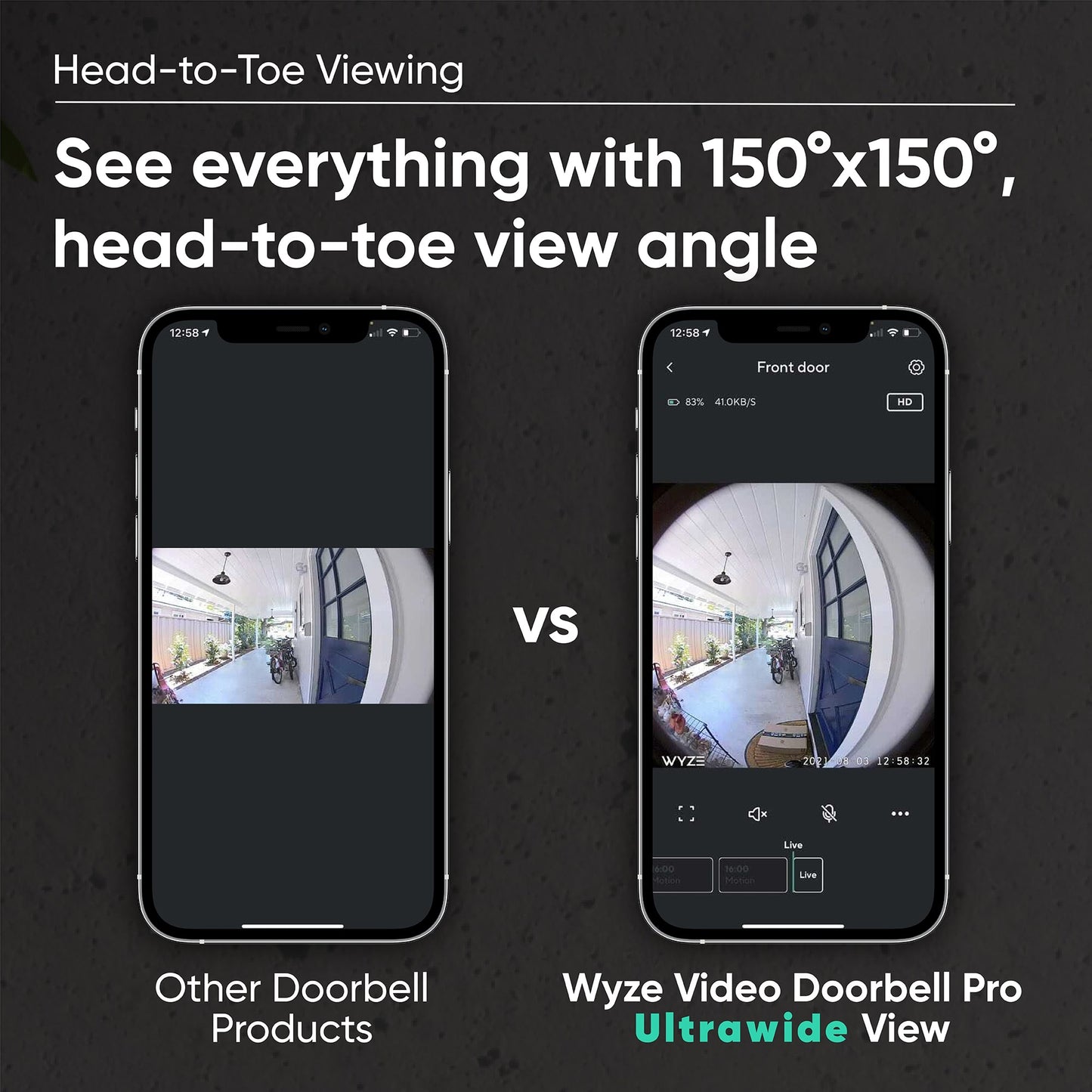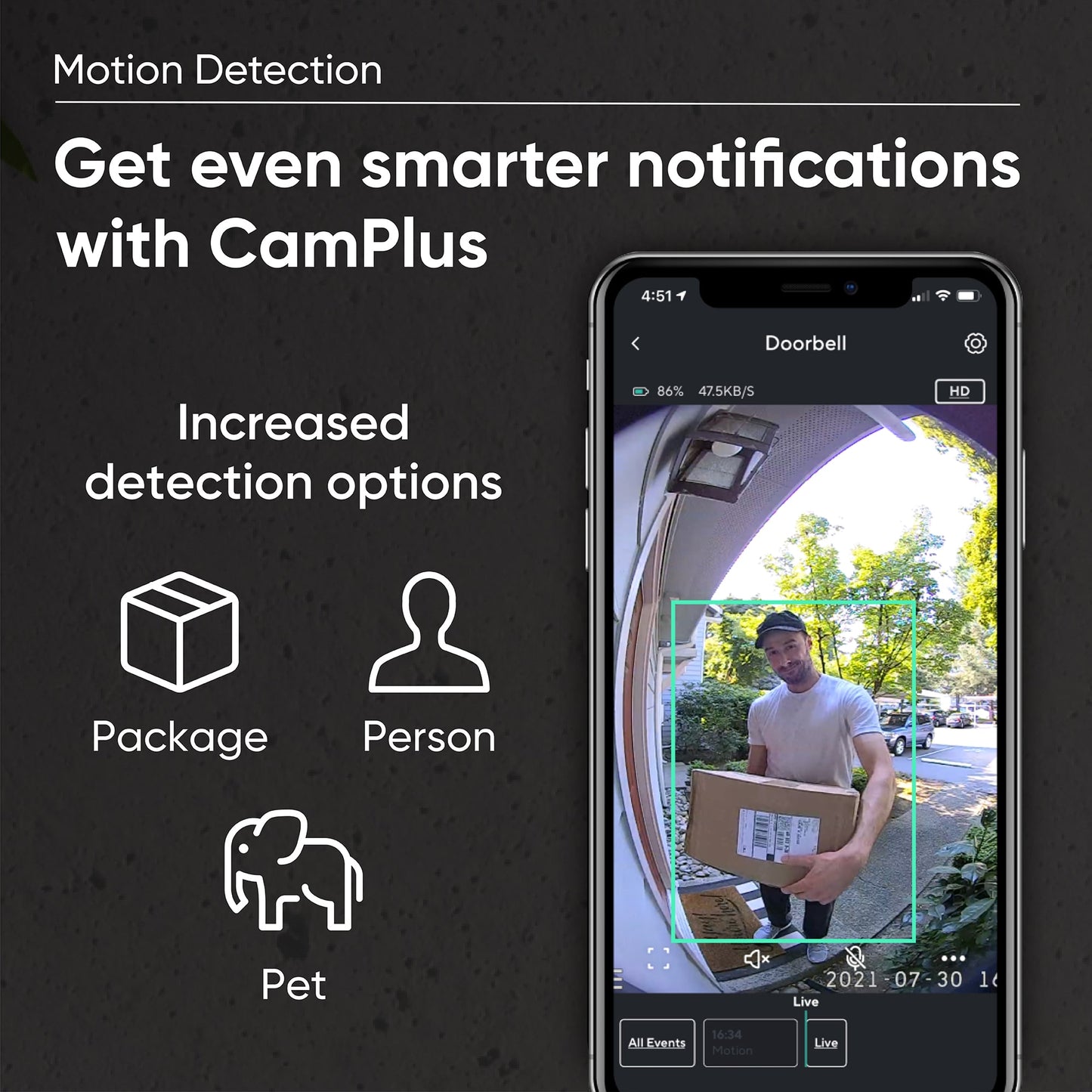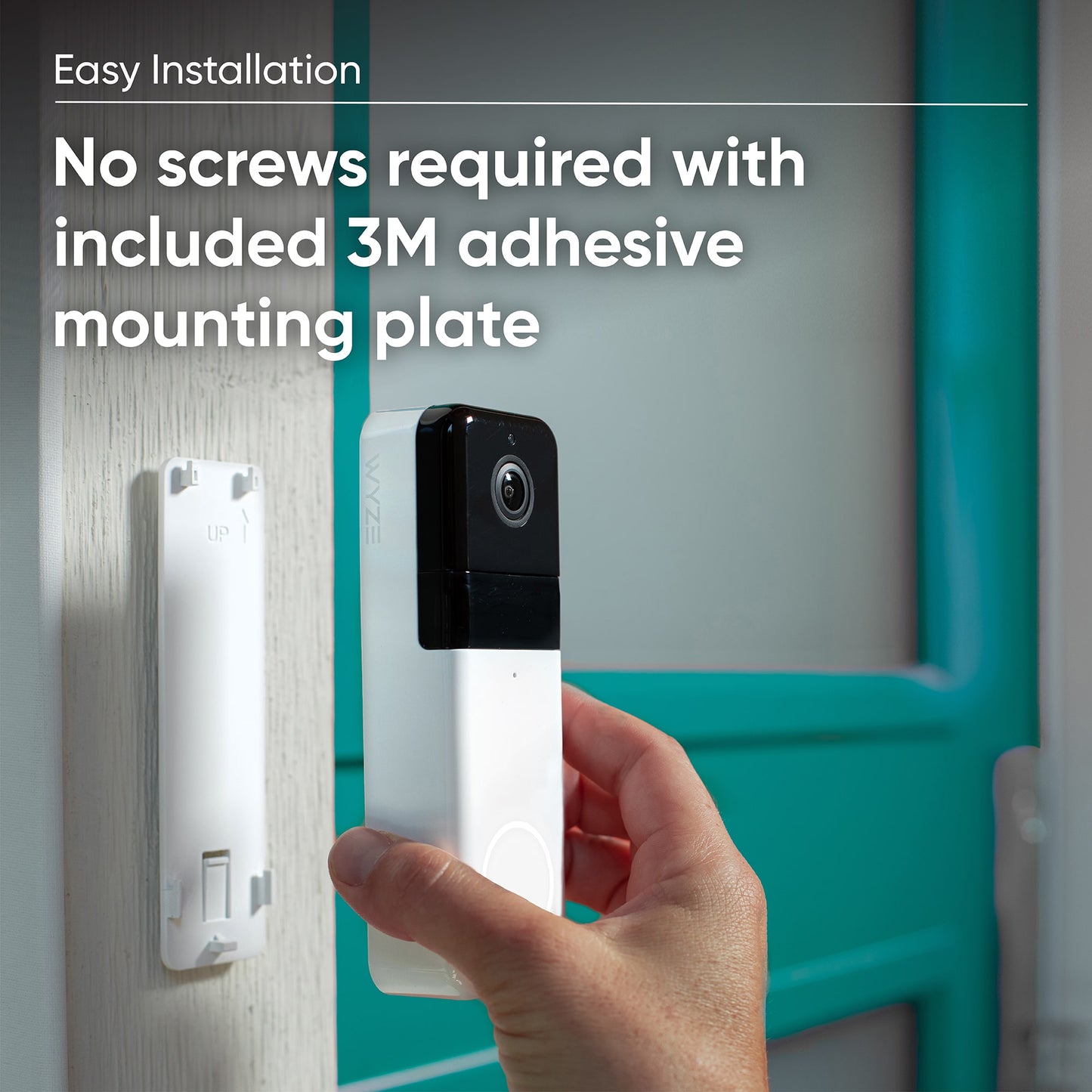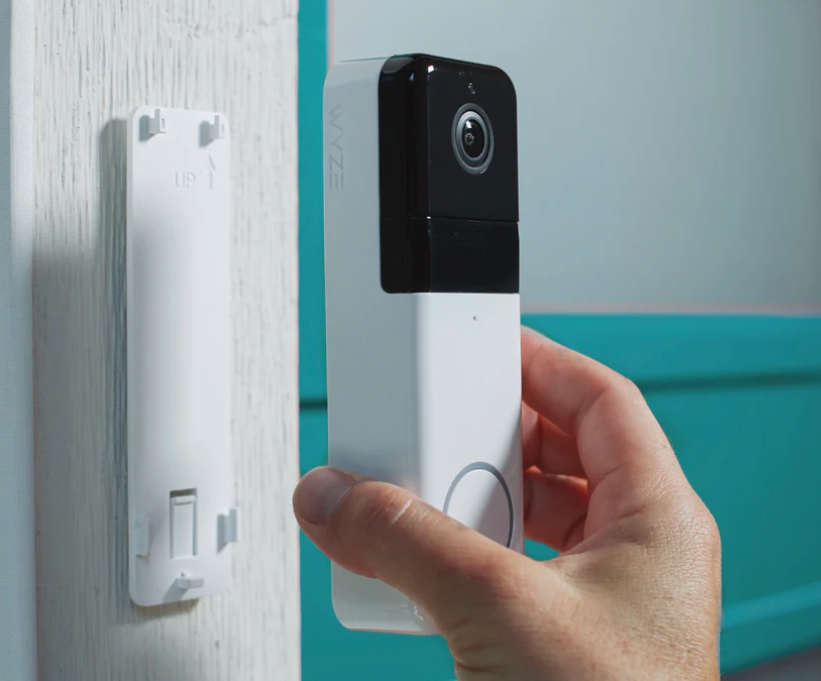 Battery-powered front porch protection.
Designed from the ground up to deliver a luxurious user experience, Wyze Video Doorbell Pro can be installed wired or wire-free. Easily mount with screws or the screw-free adhesive plate and quickly view it all from anywhere in crystal-clear HD resolution.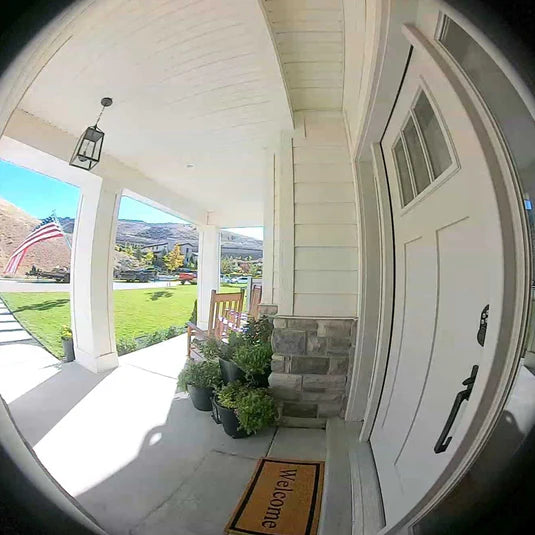 Welcome mat? You can see that too.
Wyze Video Doorbell Pro features a head-to-toe, ultra-wide viewing angle, so not only can you see the package at your doorstep, but even the house down the street.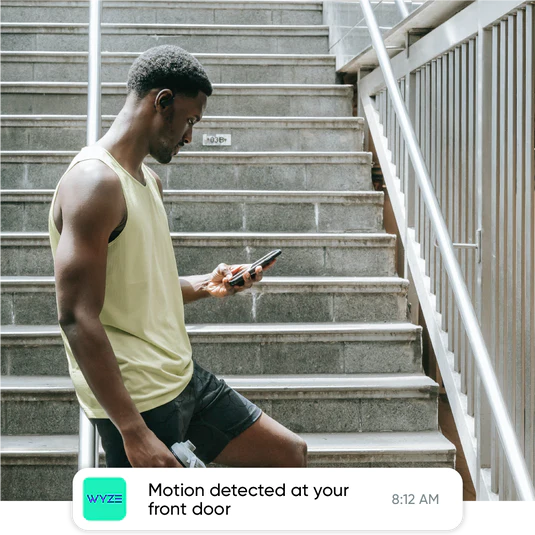 Faster notifications with a Wi-Fi Extender chime.
Most battery-powered video doorbells have slow notifications.
Ours includes a dual-band Wi-Fi Extender chime which stays connected to both your doorbell and Wi-Fi for lightning-fast notifications while also conserving your doorbell's battery life.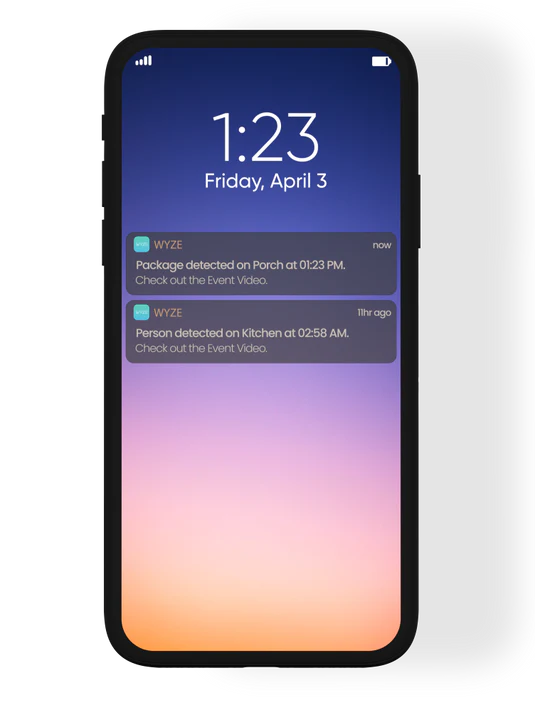 Smart detection alerts with Cam Plus.
Get smarter notifications with Cam Plus like Person, Package, Vehicle, and Pet Detection. Unlock unlimited video recording and exclusive discounts on Wyze products.
More features to love...
Motion-activated security light.

When motion is detected, a security light around the doorbell's button will gradually glow blue to alert anyone at your front door that they are on camera and being recorded.

Two-way audio and quick responses.

Quickly tell the deliver driver where you want your package placed by simply pressing the "talk" button in the Wyze app.  You can also use preset quick responses to have the doorbell say things like:"Be there shortly" or "Leave the package at the door."

Hear your doorbell ring, chirp, or bark.

Choose between 20 unique tunes and 8 sound levels to find the perfect chime for you, even scare off potential intruders with a dog bark.

✓ Chime Included