Wyze Cam Floodlight
Brighter, smarter, motion-activated security.
Regular price

$114.99 CAD

Regular price

$138.99 CAD

Sale price

$114.99 CAD

Unit price

per
+ Shipping
30-day hassle-free returns.
Deter the bad guys and catch it all on film with Wyze Cam Floodlight and its built-in Wyze Cam v3. After all, nothing says "Beat it," quite like 2600 lumens to the face.
270º Motion Detection
3 individually controlled PIR sensors.

Detects motions up to 30 feet away.

Adjustable sensitivity.

Adjustable super bright LED lights
2600 lumens in 2 adjustable LEDs cover your entire yard and scare away intruders.

The lights can be controlled by:

PIR Sensor Detection

Camera Motion Detection

Hybrid Motion Detection

Sound Detection

Rules

Additional USB Port
Supports an additional Wyze Cam v3 for wider camera coverage.

Color Night Vision
The camera's Starlight CMOS Sensor helps you to see in ultra low-light conditions.

Wyze Cam Floodlight is capable of seeing in color at night with very limited lighting. You can even use it to watch the stars or take a time lapse of the stars.

1080p HD Video
An improved sensor and lens lets the camera capture extraordinary images and videos in any light.

Loud Security Siren
Use the dedicated 105 db siren to warn away intruders (and pesky squirrels) with a loud sound. Control the siren from the Wyze app.

Cloud and Local Storage
Add even more storage with a microSD card or a subscription to Cam Plus.

Cam Plus Compatible
Upgrade to Cam Plus for state-of-the-art AI features including Person, Pet, Package, and Vehicle Detection.
Color
White

Materials
Wyze Cam v3: Body (Polycarbonate), Lens (Glass + Plastic)

Floodlight: Body (Polycarbonate, Glass + Plastic)

Weight
2.76 lbs (Assembled)

Ports
2 USB Ports

1 port for Wyze Cam v3

1 port for an additional Wyze Cam v3

Camera
Resolution: 1920 X 1080 (1080p)

Field of View: 130° lens

Night Vision
Starlight Sensor Color Night Vision

IR night vision

Audio
Speaker: 90 db

Microphone: Built-in, digital

Siren: 105 db at 4'

Sensor
270º PIR Motion Sensor

Light
LED: 2600 lumen

Dimmable: Yes

Controls: Schedule, Motion Trigger

Dimensions
9.5 in x 7.0 in x 7.7 in (Length x Depth x Width)

Power
Hardwired 110V~120V

Connectivity
2.4GHz WiFi

Storage
Local Storage (microSD card required) Cloud

Compatibility
Phone: Android 7.0+ and iOS 12.0+

Camera: Wyze Cam v3

Supported Services
Cam Plus, Wyze Home Monitoring

Weather Resistance
IP65-Rated

Certifications
FCC, UL, CE, IC

Warranty
1-Year
Wyze Cam Floodlight (assembled) x1

Quick Start Guide x1

Mounting Accessory Kit x1

Bracket Screws (#6, #8, and #10) x2
Ground Screw x1
Floodlight Screw x1
Rubber Stopper x1
Mounting Bracket x1
Wire Nuts x2
Hook x
Does Wyze Cam Floodlight include a camera?
Yes, it comes with a Wyze Cam v3. It also has an additional USB port that can connect to an additional Wyze Cam to provide wider visual coverage.

Does it support both wall and overhang mounting?
Yes, it can be mounted on a wall or under an overhang. Both mounting kits are included.

Can I adjust the camera angle?
Yes, you can adjust the camera angle. You can also use the extra USB port so you can add another camera for more coverage.

How do I turn on Color Night Vision for the camera?
By default, Wyze Cam Floodlight will automatically turn on when motion is detected. While viewing the live stream, turn off night vision. Only a little light is needed for a clear image and a street light or night light outside would work. If you need more light, you can manually turn on the floodlight in the Wyze app for better illumination.

What is the Starlight Sensor?
It's a special CMOS sensor that is very sensitive to light. This allows Wyze Cam v3 to create an astonishingly clear image - even in extremely dark conditions.

What is the camera's resolution?
1080p FHD (1920x1080 Full HD).

Does Wyze Cam Floodlight have a battery?
No, Wyze Cam Floodlight must be hard-wired either in place of an older floodlight or using a junction box. Please contact a licensed electrician for help if you do not have one set up yet.

Can I change the brightness of the floodlight?
Yes, the LED lights are dimmable.

Can I change the color of the floodlight?
No, the color is not customizable. It is 5000k white LED.

Is Wyze Cam Floodlight weatherproof?
Yes, it is IP65 rated.

Can I schedule the floodlight to turn on?
Yes, you can schedule the floodlight to turn on/off via Rules in the Wyze app.

How long will the LED lights last?
With normal use, the lights can be used for about 50,000 hours.

Can I purchase a Wyze Cam Floodlight without the included Wyze Cam v3?
No, the floodlight kit is sold as a full package with an attached Wyze Cam v3.

Does Wyze Cam Floodlight support 5GHz WiFi?
No, Wyze Cam Floodlight does not support 5GHz WiFi. It only supports 2.4GHz networks.

Are there any differences in how cameras connected to the floodlight work?
The main camera that comes pre-assembled controls the floodlight. This includes turning it on or off manually or using automatic features like motion detection or schedules. If you add another camera using the second USB port, it works as a normal Wyze Cam v3 without controlling the floodlight.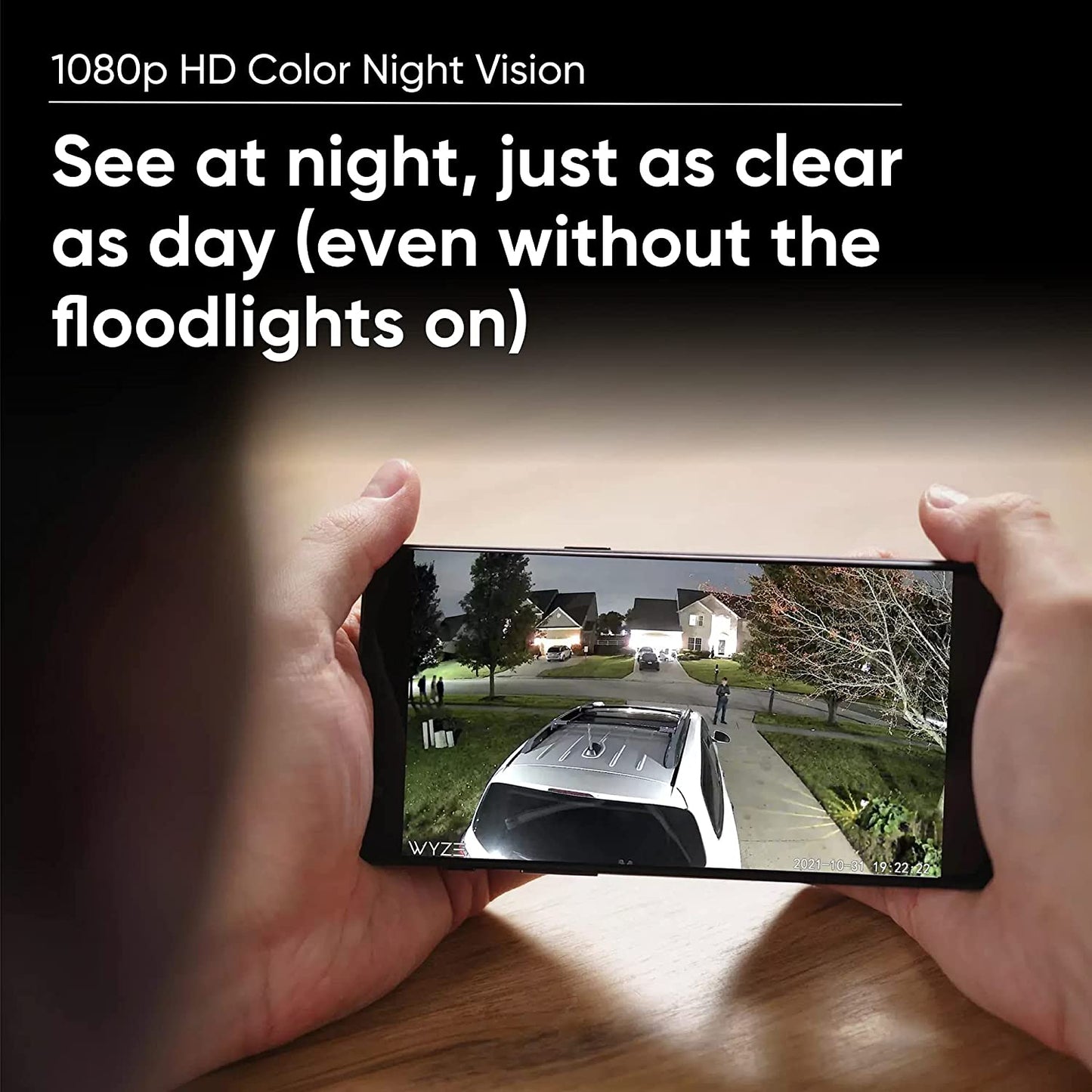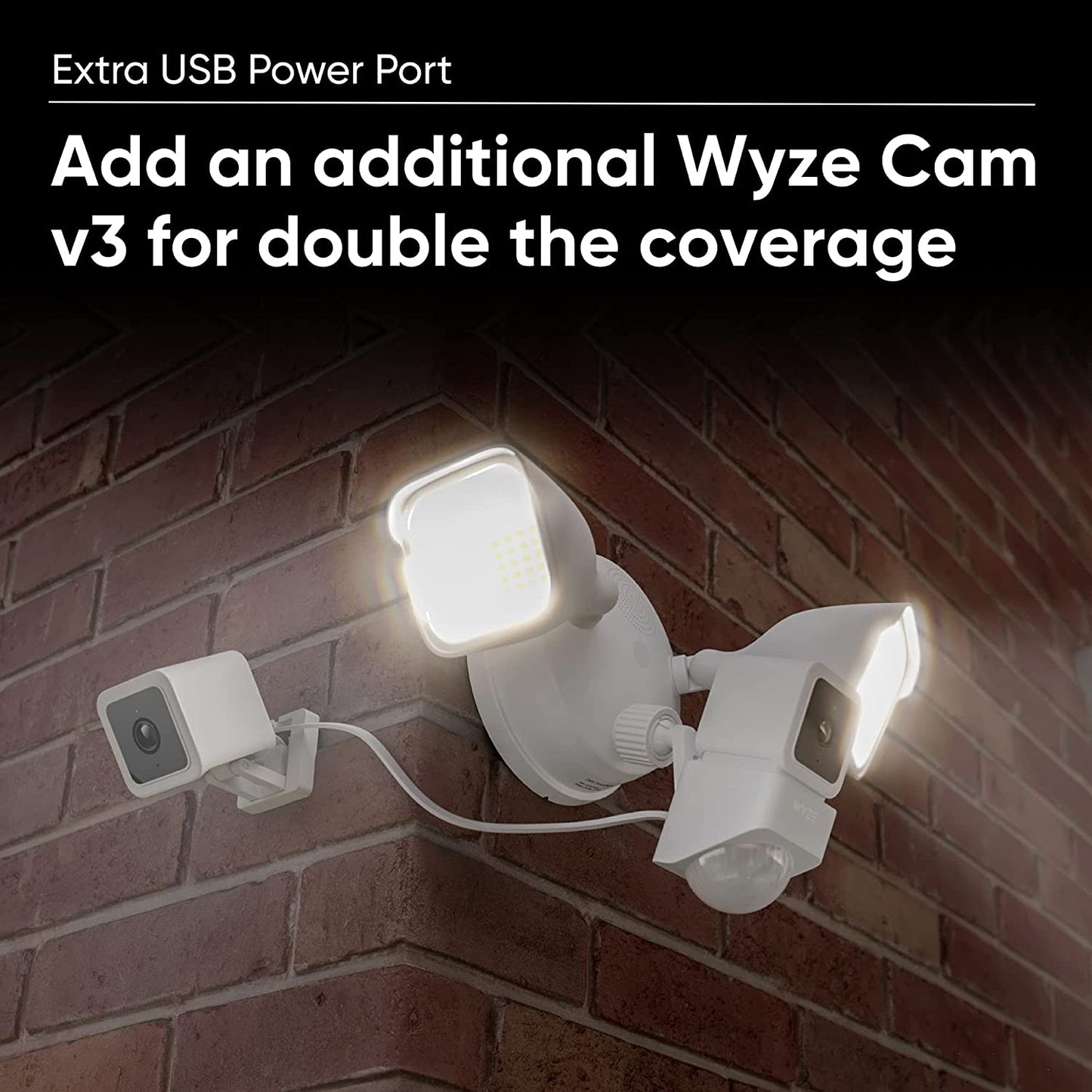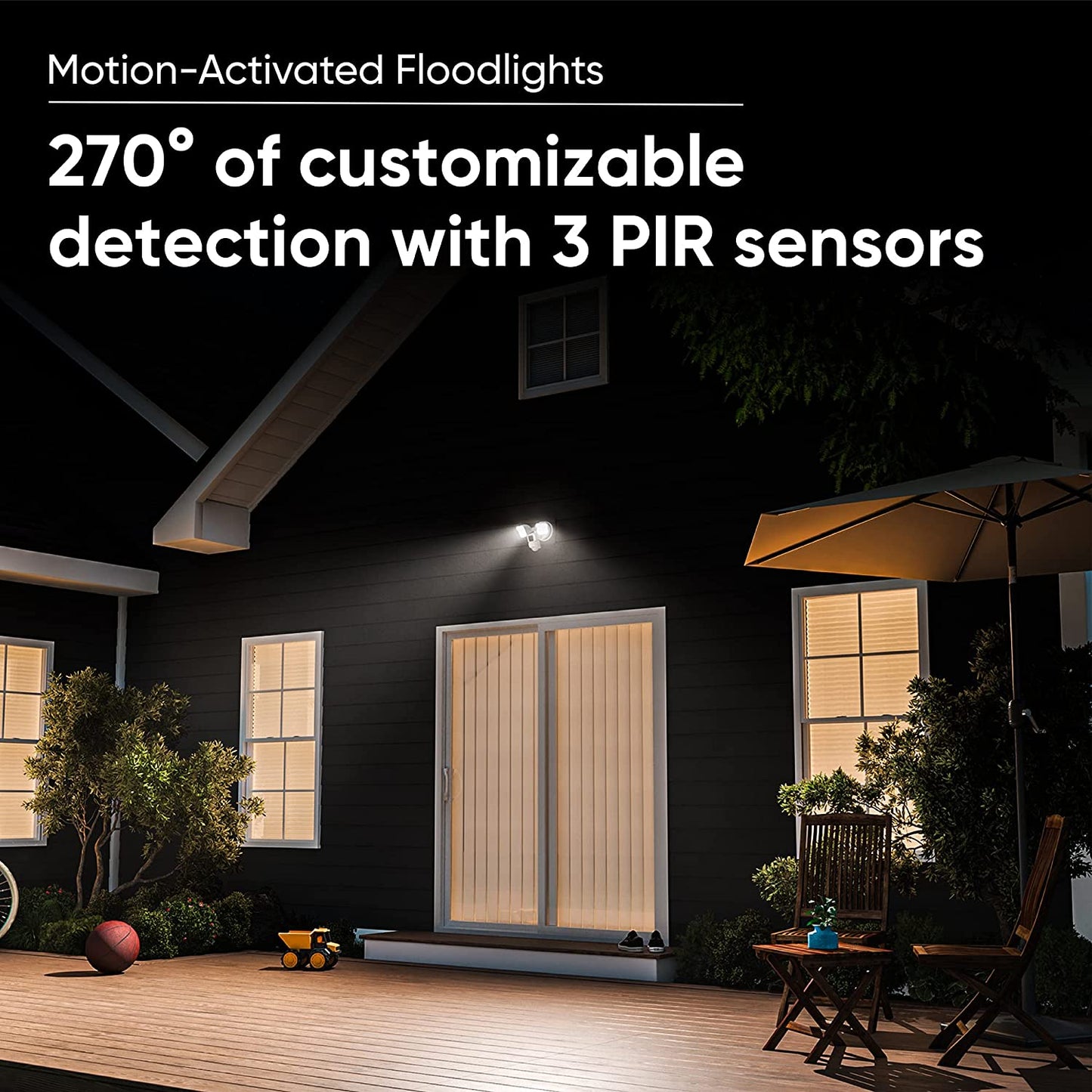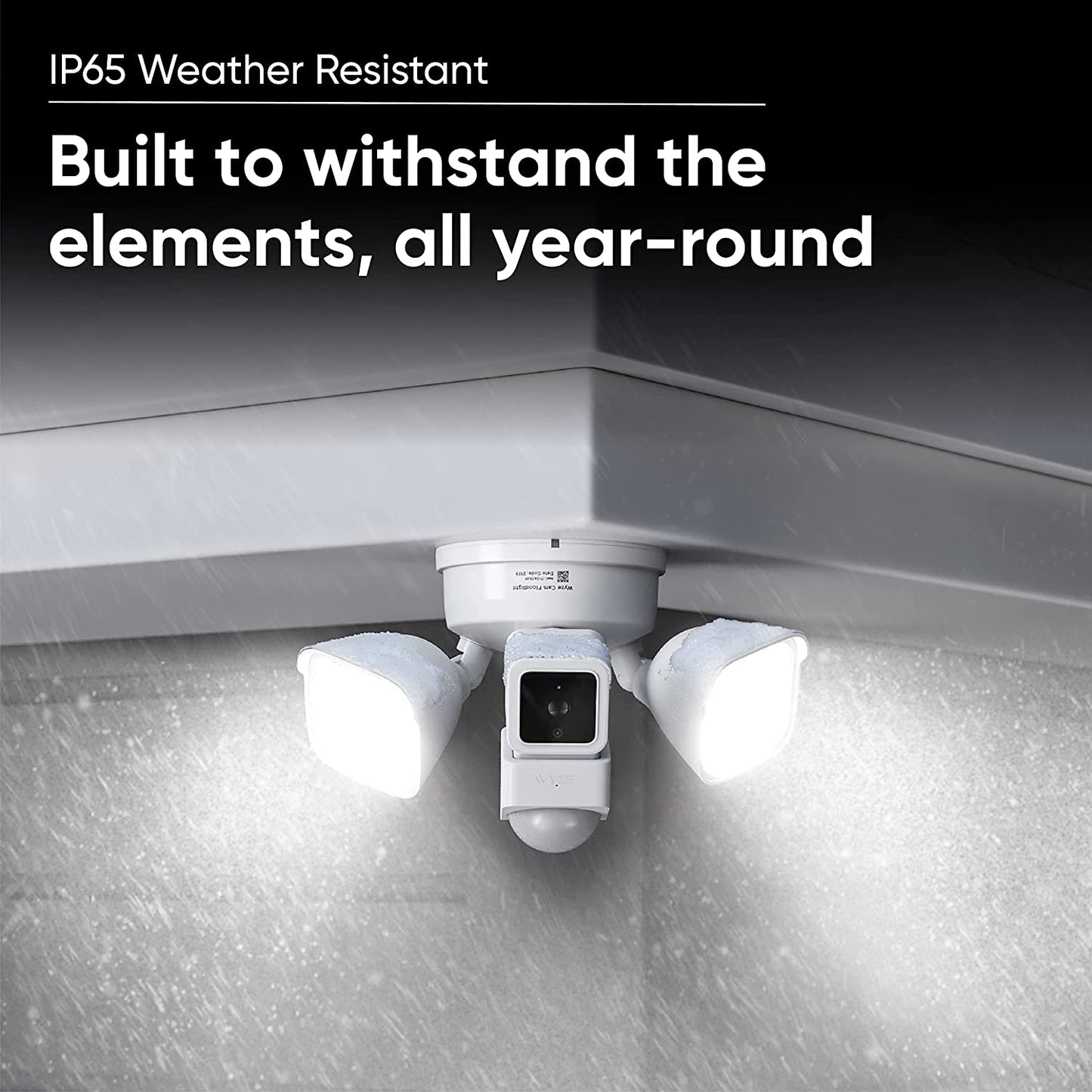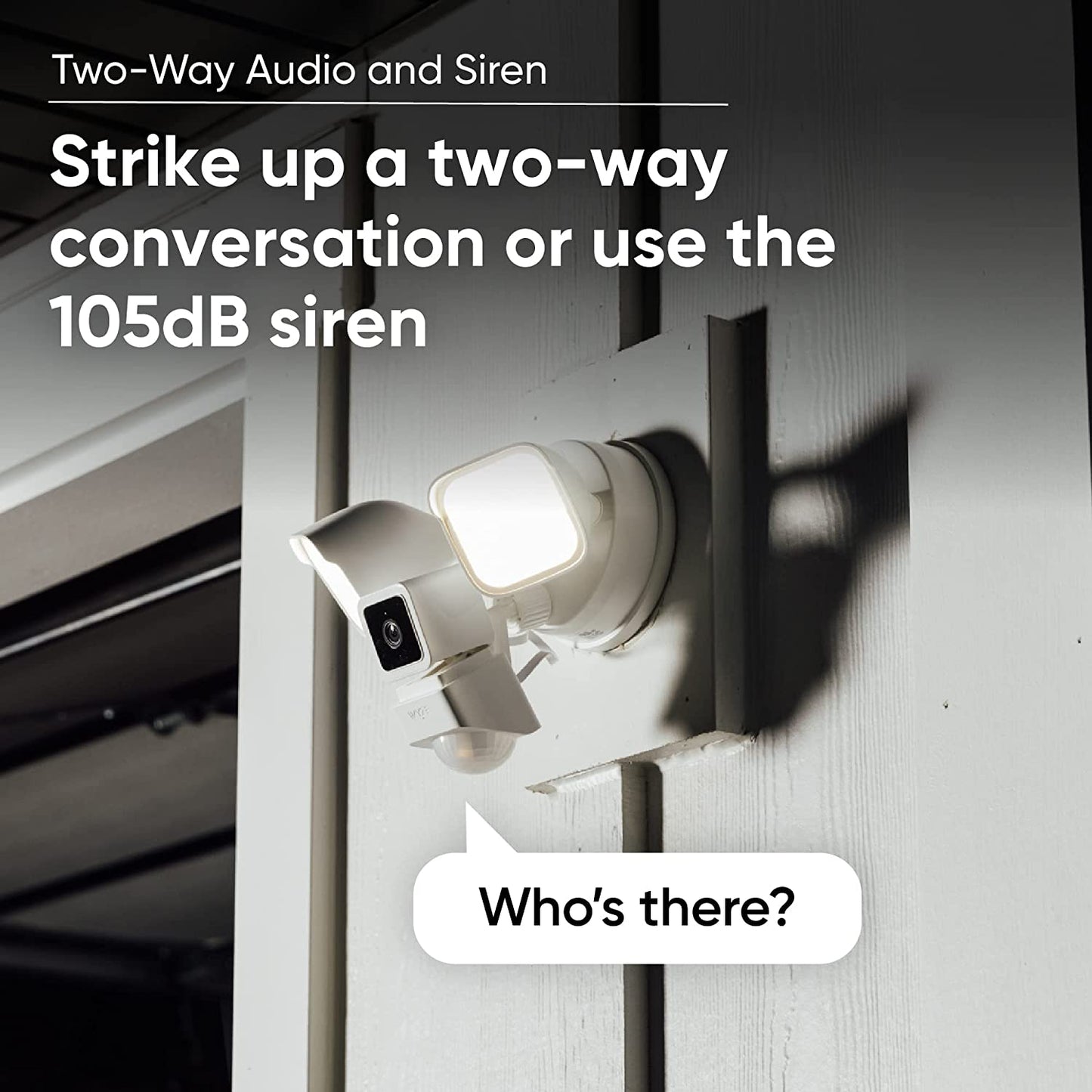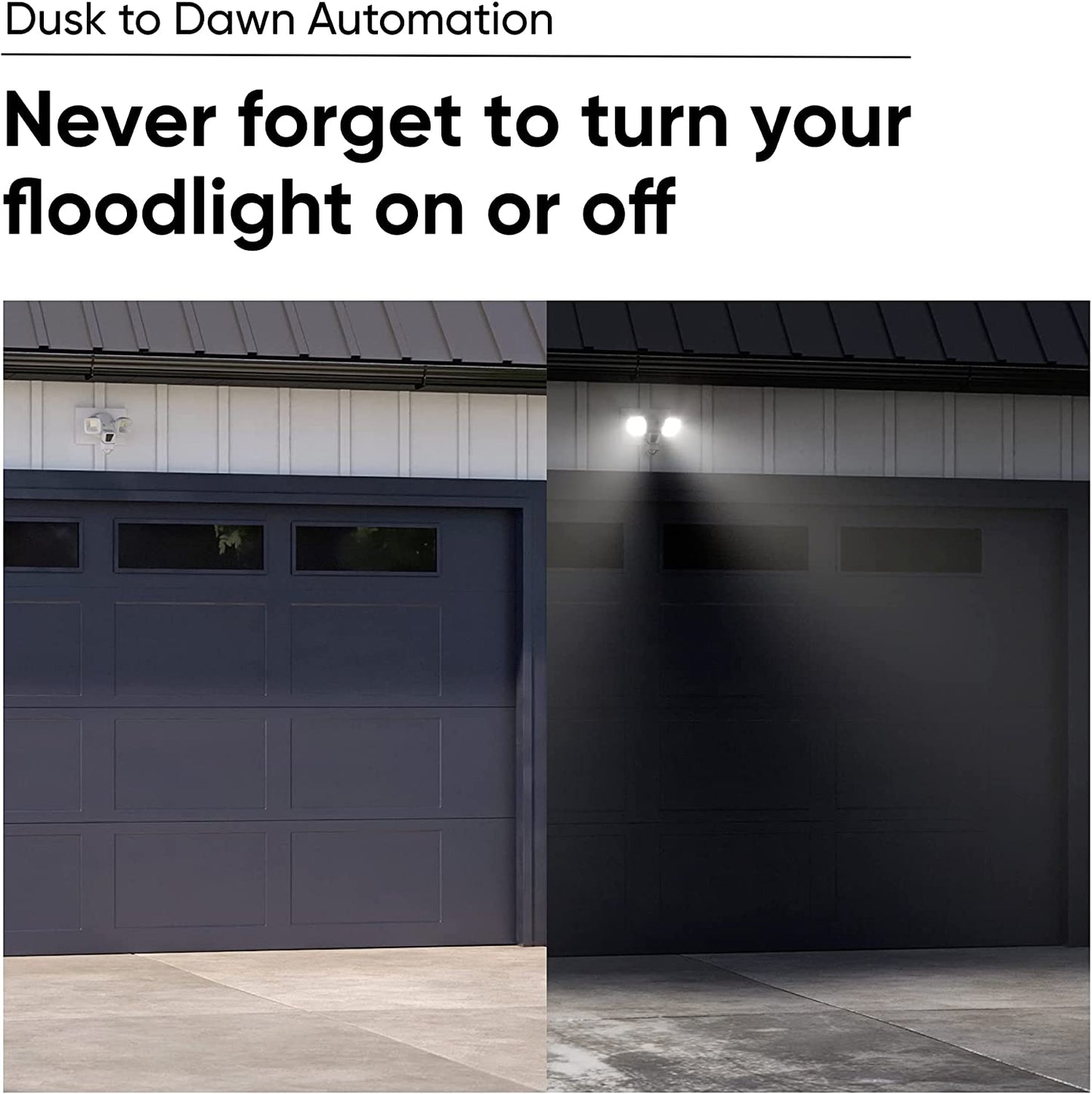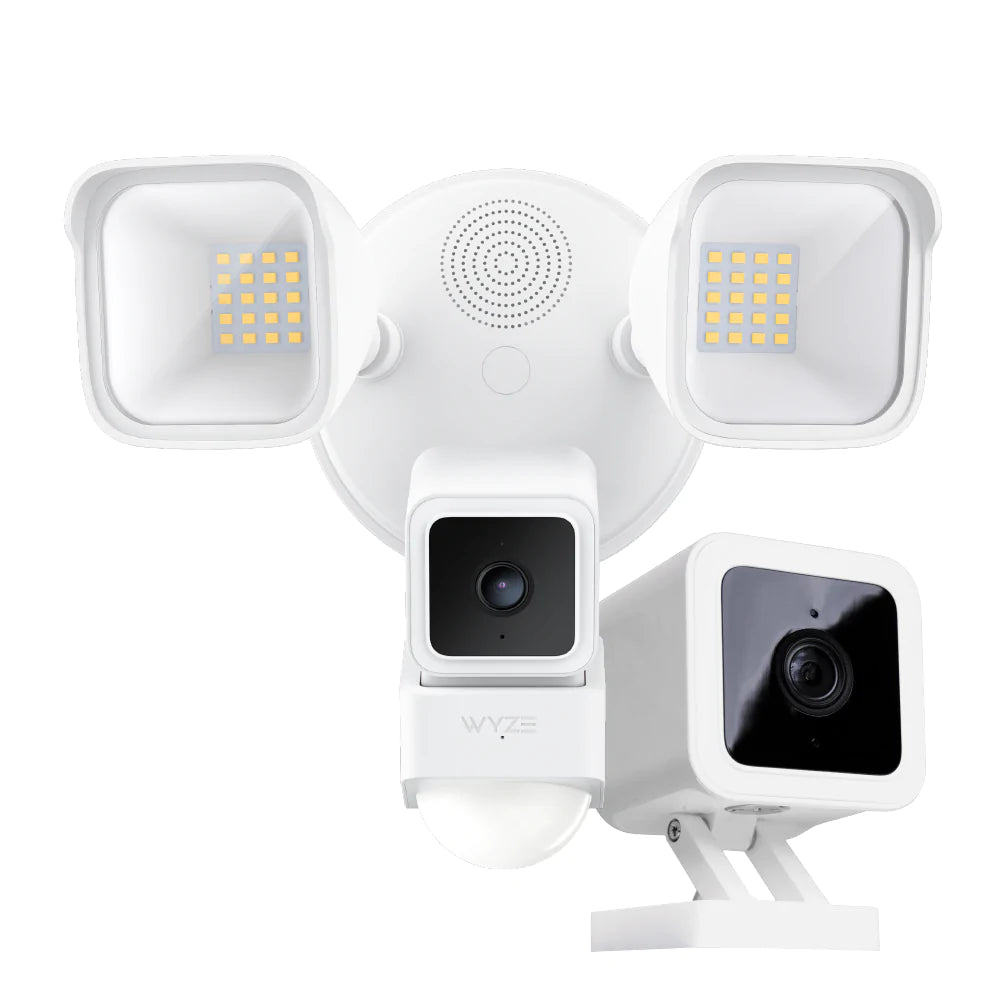 Choosing a selection results in a full page refresh.