Wyze Air Purifier
A luxury air purifier without the luxury price.
Regular price

$249.99 CAD

Regular price

Sale price

$249.99 CAD

Unit price

per
+ Shipping
30-day hassle-free returns.
Wyze Air Purifier clears the air, friends! And what happens when the air hasn't been cleared? Misunderstandings, that's what. Grudges. First thing you know, someone wants a divorce. Now it's six years later, you're living in a motel, and your kids have blocked you on Instagram. Buy a Wyze Air Purifier and save your marriage. Premium filters and 350 CADR at 21 whisper-quiet decibels. Plus smart controls, AQ alerts, and laser particle detection. A luxury air purifier without a luxury price tag.
Three Filter Options

350 m3/h CADR

Whisper Quiet

Laser Particle Detection

Smart Controls & Automation

Air Quality and Allergen Alerts
Model Number: WSAPUR
Dimensions: 9.5 in x 9.4 in x 18.5 in / 243 mm x 240 mm x 472 mm
Weight:
With Allergen Filter: 8.75 lb / 3.97 kg
With Wildfire Filter: 9.32 lb / 4.23 kg
With Formaldehyde Filter: 9 lb / 4.08 kg
Operating Temperature: 14°F - 104°F / -10°C - 40°C
Operating Humidity: < 85%
Environment: Indoor use only
Particulate Matter CADR:
Allergen Filter: 350 m3/h / 206 CFM
Wildfire Filter: 342 m3/h / 201 CFM
Formaldehyde: 317 m3/h / 186 CFM
Wildfire Filter H2S Removal Efficiency: 98.9%
Formaldehyde TVOC Removal Efficiency: 97.3%
Effective Area: 450-550 ft2
Noise Level/Flow Rate:
Level 1: <20.8 dBA, 51 m3/h
Level 2: <24.6 dBA, 152 m3/h
Level 3: <44.5 dBA, 310 m3/h
Level 4: <52.1 dBA, 399 m3/h
Rated Power: 120V/60 Hz, 3.5 to 45W
Wyze Air Purifier
Filter (Pre-installed, remove packaging before use)
Quick Start Guide
QuickGuide for First Use
Can I use Wyze Air Purifier outside of US and Canada?
The power supply of Wyze Air Purifier is AC 120V / 60 Hz. In other areas outside of the US and Canada, a voltage converter may be needed. Some app features such as outdoor air quality monitoring may not be available outside of the US and Canada.

Should I leave my Wyze air purifier on 24/7?
Because air pollution is a pervasive and continuous problem, it's best to leave your air purifier on all day. Air pollutants like pollen, traffic gas, and smoke, can transfer to your home from outside while others like cooking, cleaning, and furniture off-gas throughout the day are generated inside. Wyze Air Purifier is designed to run around the clock and keep the pollution level low 24/7. If you run Wyze Air Purifier at the max fan speed, 24 hours a day, for an entire month, the energy cost is only around $3.50.

We recommend running your Wyze Air Purifier continuously to circulate the air and reduce the air pollution level. In a home with an HVAC system circulating air, the air coming out of your vents will be significantly dirtier than the air in the room with the air purifier—especially considering most homes rarely have their air ducts cleaned. Wyze Air Purifier is energy efficient and quiet when the pollution level is low, so you can keep your air clean 24/7.

Does Wyze Air Purifier generate byproducts, like ozone?
Wyze Air Purifier is CARB certified, which means it does not exceed ozone emission limits. Our units do not use any ionization-based components which could generate harmful byproducts.

What does Wyze Air Purifier remove?
Wyze Air Purifier (regardless of the filter equipped) is designed to remove both particulate and gaseous pollutants commonly found at home, including dust, pollen, mold, pet allergens, viruses & bacteria, volatile organic compounds (VOCs), odors, and tobacco smoke.

Wyze Air Purifier comes with one of three interchangeable options. Wyze Air Purifier with Allergen Filter is considered to be sufficient to handle common pollutants found in most homes. The Wildfire Filter is particularly effective against smoke generated from wildfire, industrial processes, and traffics. The Formaldehyde Filter is designed to be extra efficient for the removal of chemical gas such as VOCs, and even formaldehyde, thanks to its manganese catalyst material. VOCs are commonly found in household products, e.g., cleaning agents, paints, varnishes, furniture, and wax, and generated in activities such as cleanings, applying cosmetics, and smoking. The formaldehyde filter is recommended for homes with smokers, new constructions or remodeling, or new products such as new furniture.

I'm healthy and live far away from the center of wildfire, why should I care about indoor air quality?
It's tempting to think we are safe from the dangers of air pollution when in the sanctity of our own homes. However, indoor air is on average 4x to 5x more polluted than outdoor air, according to the US EPA. Outdoor air will travel inside at certain times, and local allergens and auto emissions will also make their way into your home and become trapped due to poor ventilation. We recommend using air purifiers for short-term and long-term health benefits, regardless of your home's distance from outdoor pollution sources.

How does the filter subscription work?
Once you subscribe to our Wyze Air Purifier filters on Wyze.com, Wyze will ship one filter of your choice to you, at the frequency of your choosing, with a 12% discount. You will only be charged at the moment of shipment.

How long do the Wyze Air Purifier filters last?
The filter life and performance could vary depending on usage and your home environment. In general, we recommend replacing your air purifier filter at least every 6 months to maintain the best performance. Your Wyze App will let you know when it is time to replace the filter.


Where should I place my air purifier?
If you only have one air purifier, the ideal place to put the air purifier is the room in your home where you spend the most time out of each day. For most people, this will either be your bedroom or living room. Try to keep your unit at least 1 foot away from walls or furniture and avoid blockage of air entrance and exit vents. This will allow air to circulate properly and the air purifier to operate more efficiently.

What room size does this Air Purifier work for?
Wyze Air Purifier is effective in rooms up to 550 sq. ft (42 m2). For slightly larger rooms, you can run the unit at a higher fan speed for longer periods of time to achieve the same cleaning performance.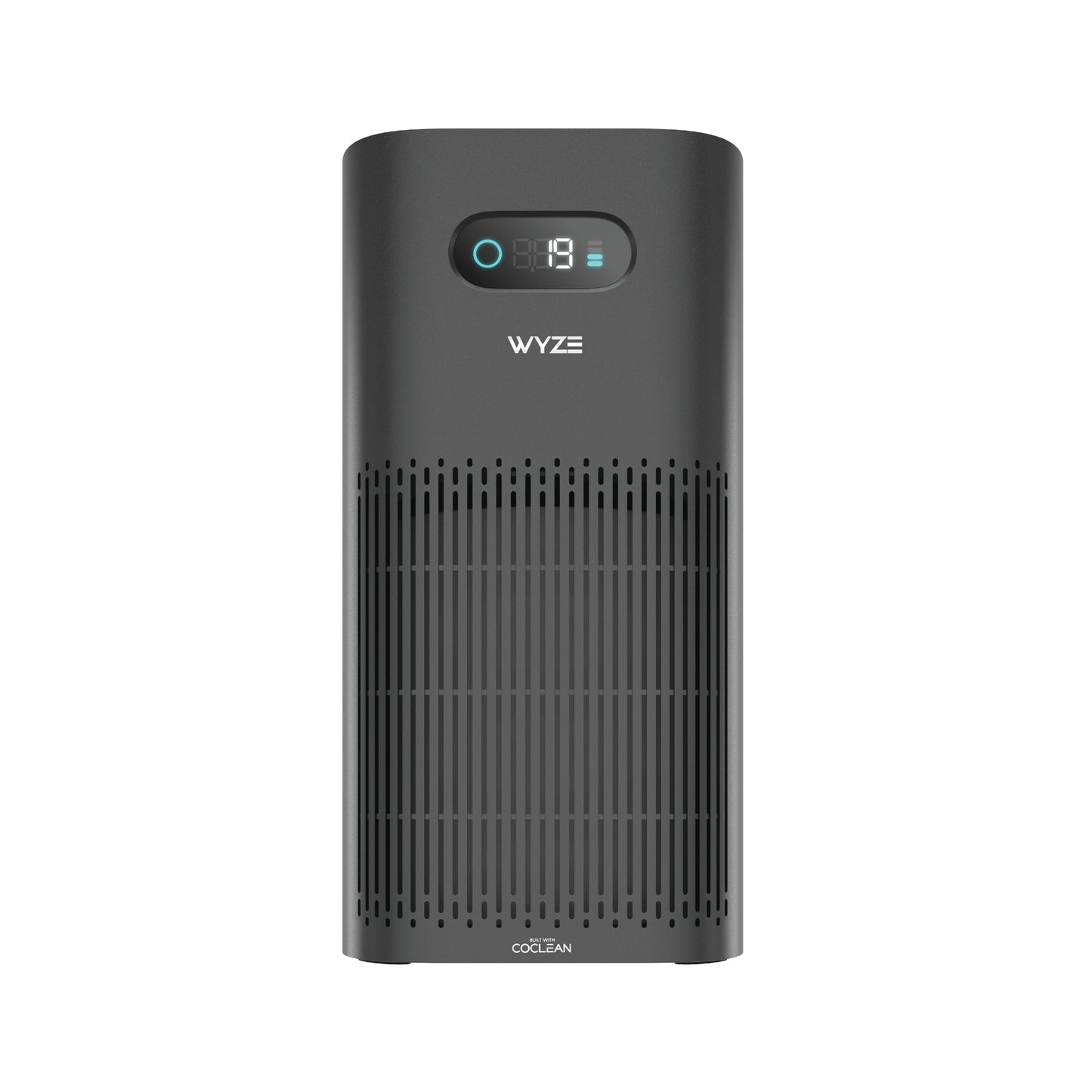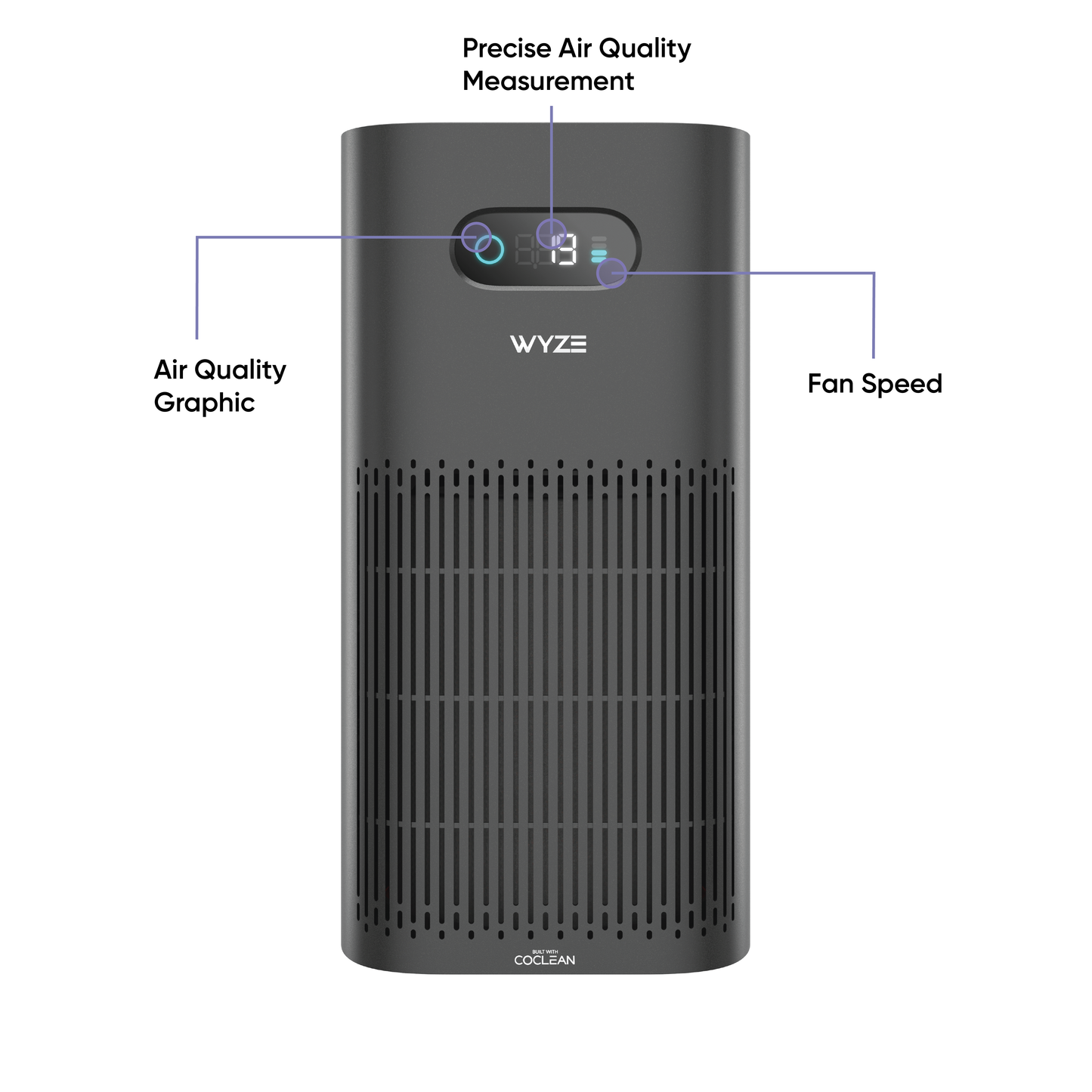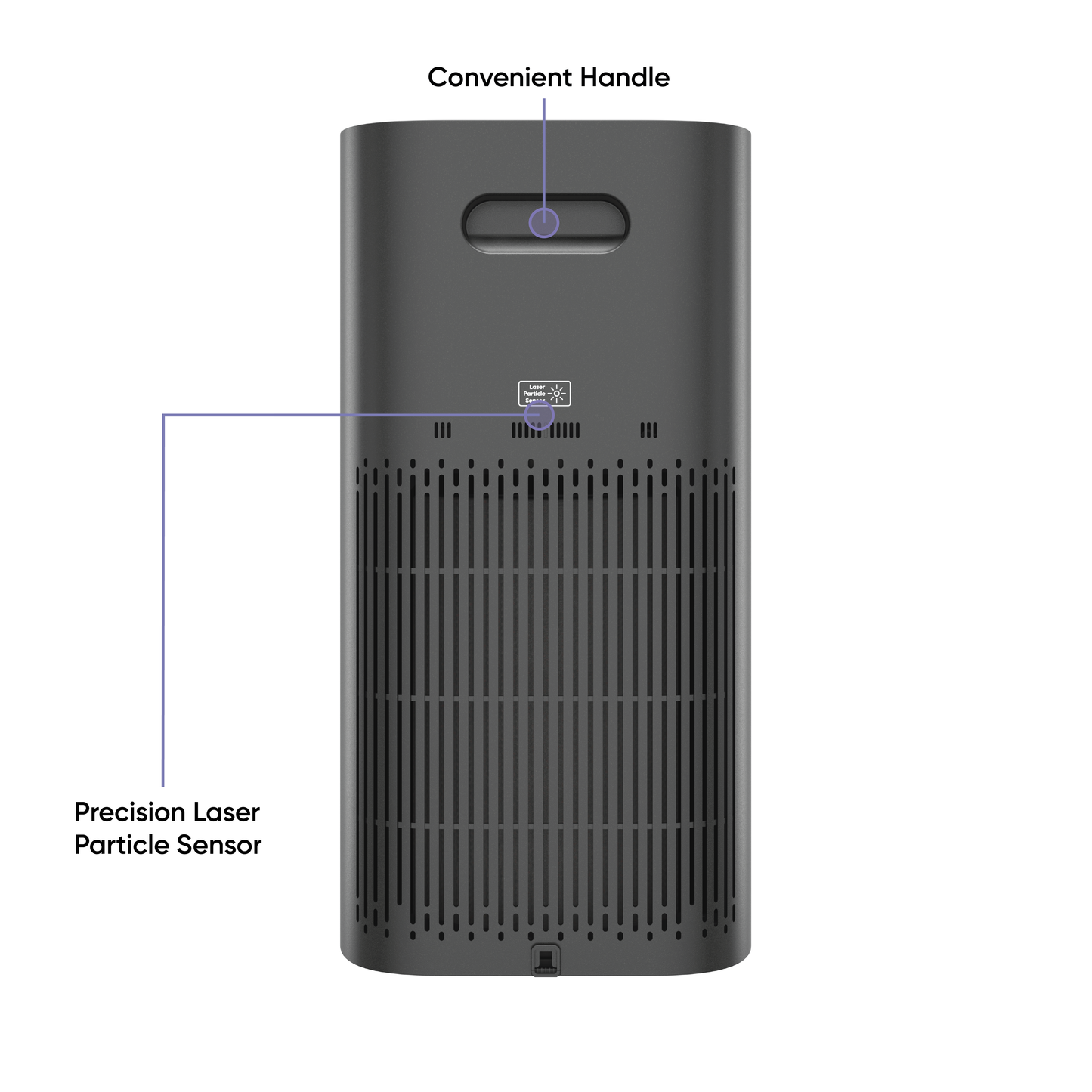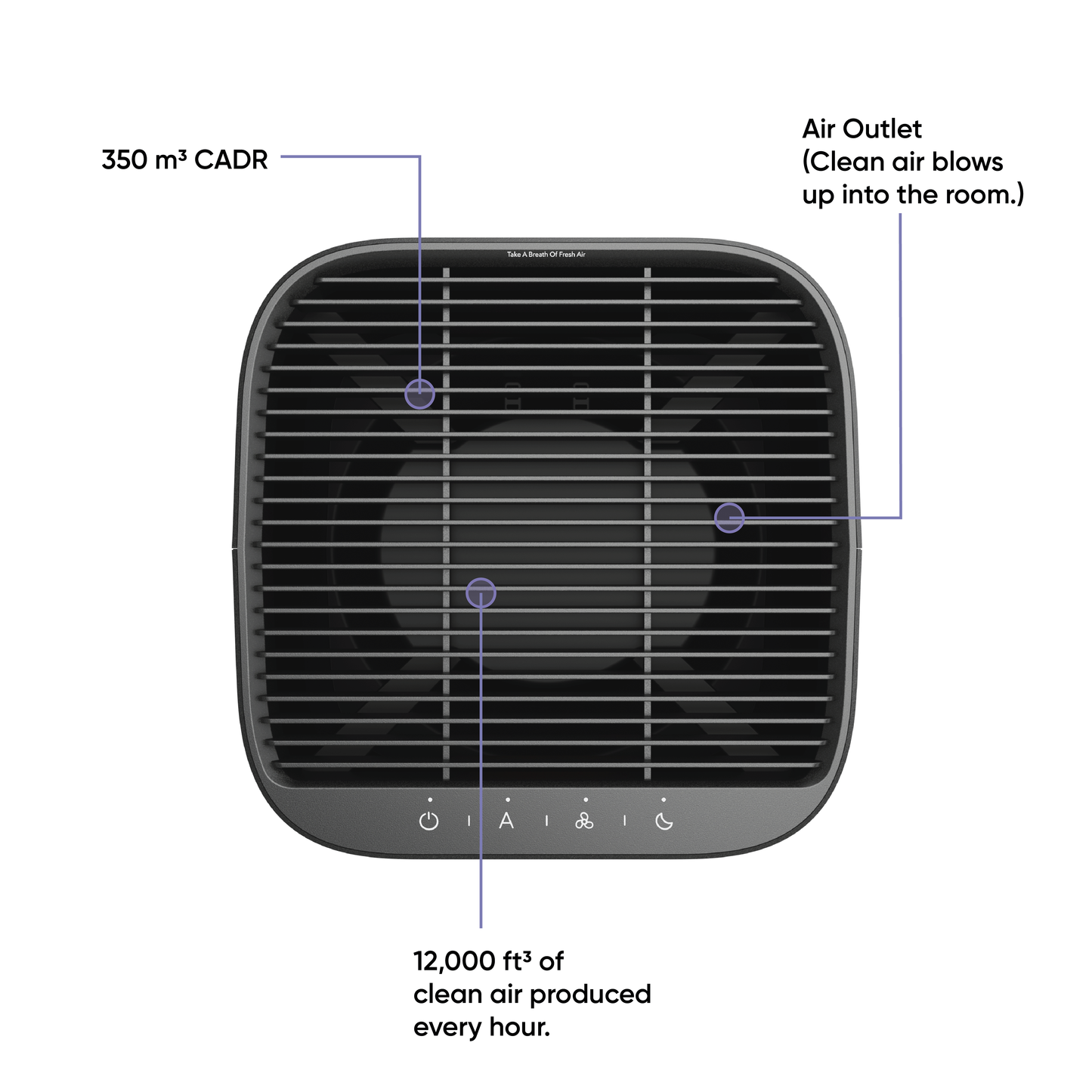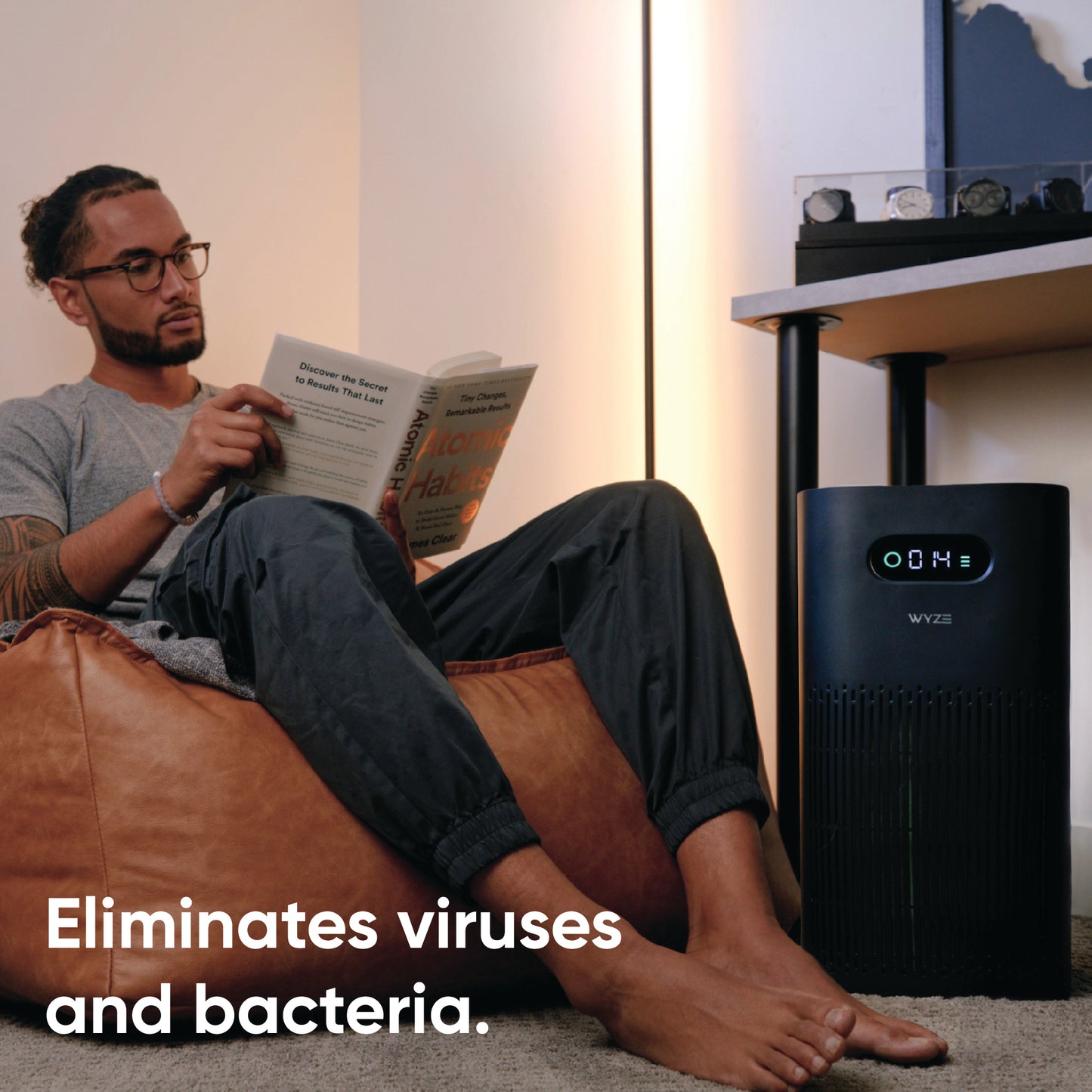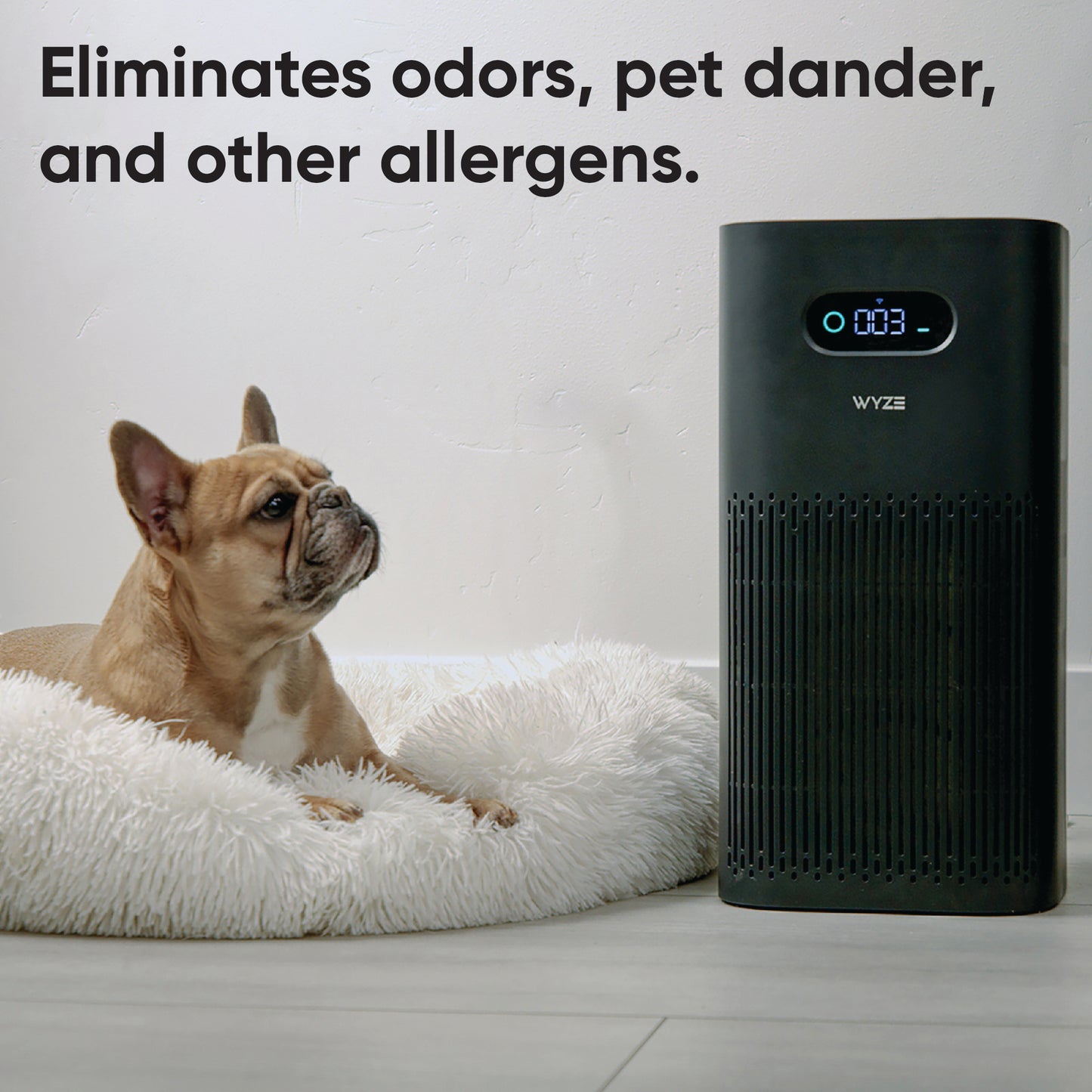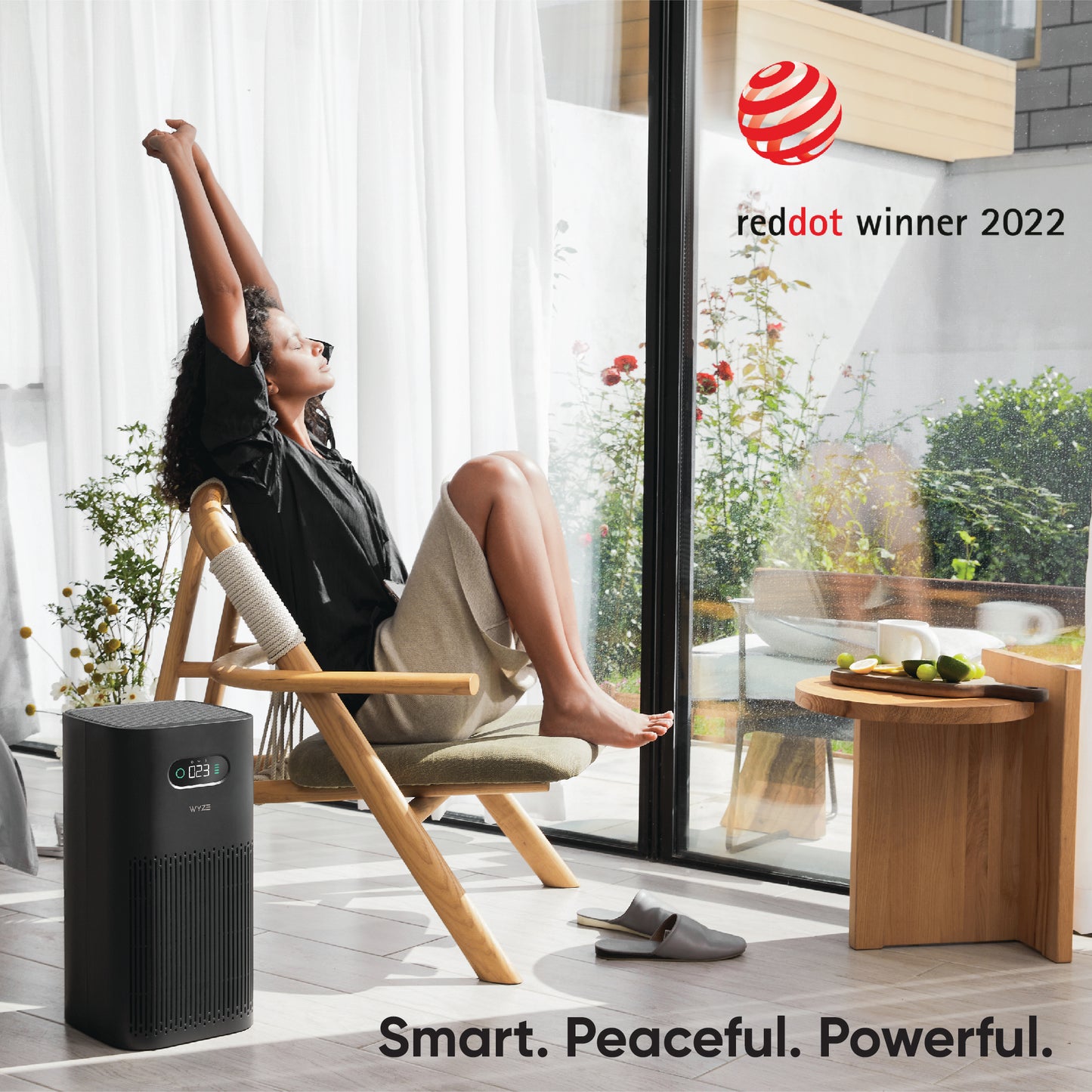 Meet Wyze Air Purifier!
Picking the perfect purifier isn't complicated. Find out what makes Wyze Air Purifier a luxury air purifier without the luxury price tag.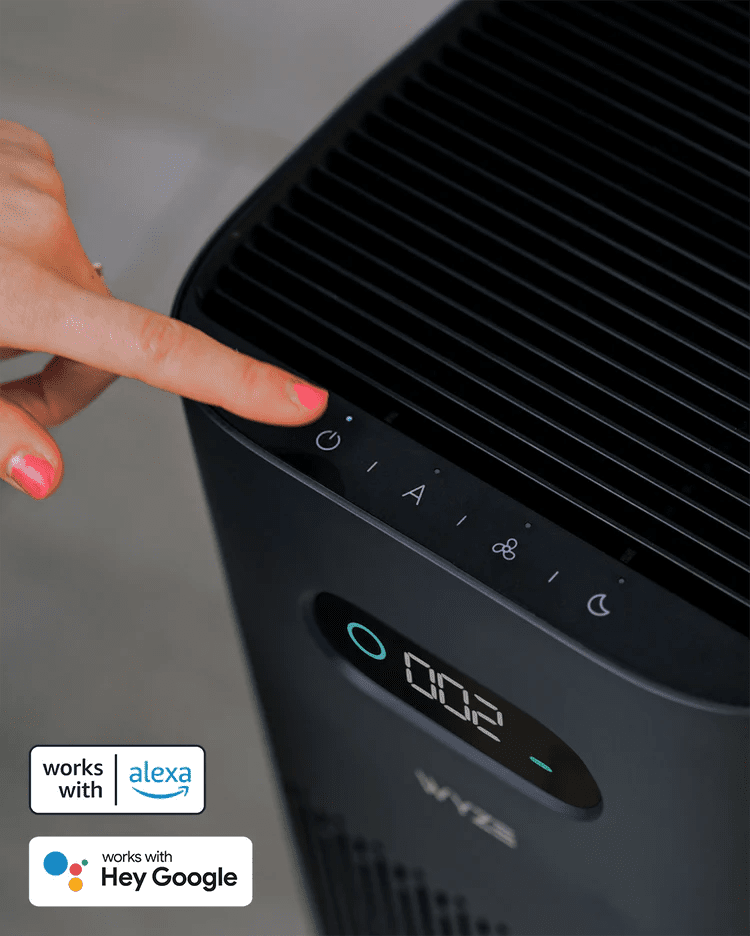 Cleans your air on auto-pilot.
Auto Mode so effective, you might never touch Wyze Air Purifier again until it's time to change the filter.Plus, control the fan speed, dim the display, and a handy child lock—you know, in case your toddler has other ideas.Wyze Air Purifier is also fully compatible with Google Home and Alexa.
Premium custom filters for premium custom cleans.
Allergens in spring? Wildfires in summer? New construction? Pets? Viruses and bacteria?
Cleaning needs change. Wyze Air Purifier can change with them thanks to three custom filters, all true HEPA, packed with granulated carbon and other catalyst materials.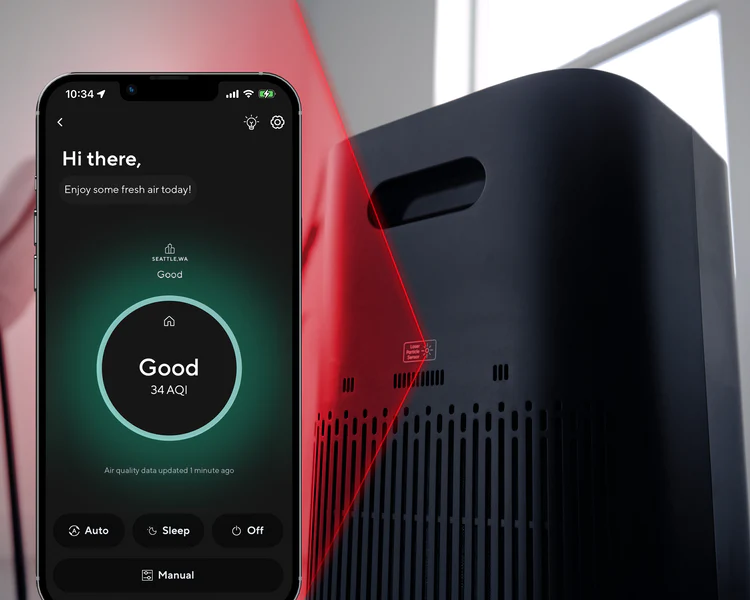 Air quality accuracy down to 0.3 microns.
Most purifiers use outdated infrared sensors that only detect large particles once every few minutes.

Wyze Air Purifier's laser particle sensor checks ultra-fine particles in the air 100 times a second, nearly approaching the compulsive regularity of a teenager with a phone.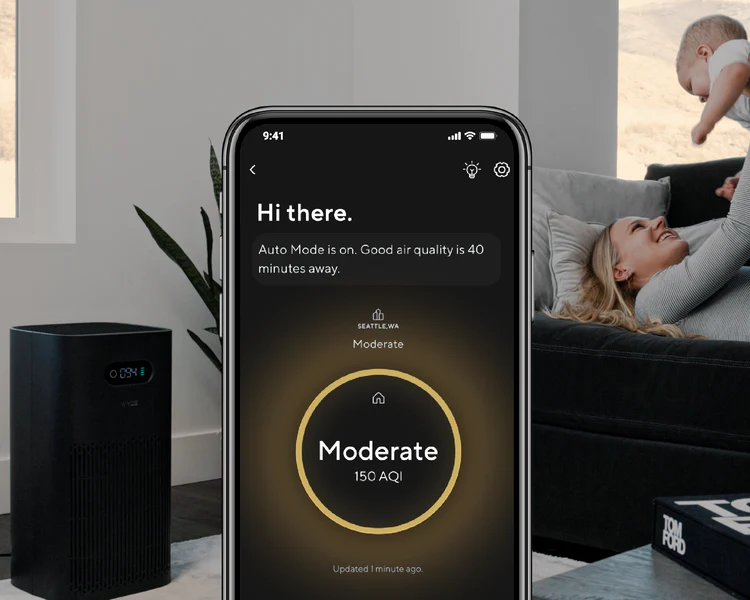 Actionable insights, personalized to you.
Don't waste your time with air quality generalizations you could find on any weather website.
The Wyze app's hyper-local measurement literally knows the air quality difference between your yard and your neighbor's, and displays it based on your personal air-quality needs.
Easy moves and maintenance.
Handy handle for carrying from room-to-room, and filter replacement so quick and painless, you'll wonder if you skipped a step.
Choosing a selection results in a full page refresh.